No Incentive to Buy
(This short video will help better understand the cost of both renting and buying a house in Boyle Heights.)
It seems to be a good time to buy a house, with the still-going-down 30-year fixed mortgage rate only half a percentage point above the record low of 3.54 percent in May 2013, according to a report from Freddie Mac.

As the mortgage rate now running at its 18-month lowest level, the cost of getting a loan to buy a new home has become a lot lower when compared to the data of earlier this year. However, many potential first-time home buyers in Boyle Heights took a wait-and-see stance instead.

(Average 30-Year Fixed Mortgage Rates since May. 2013. Source: Freddie Mac )

"I've seen people renting for over 15 to 20 years," said Alicia Bonilla, a mail carrier who moved to Boyle Heights in late 1990s.

Slow wage growth is not the only reason deterring potential homebuyers from owning houses in Boyle Heights. In fact, the median home price has been hovering around $300,000 in the last quarter, which is still affordable comparing to Boyle Heights' surrounding areas.

For a neighborhood highly populated with working-class families and new immigrants, living in their own houses has always been a dream for many young residents in Boyle Heights. But many potential homebuyers see this area merely as a springboard in their life to a better community.

"The accessibility to a lot of utilities such as transportation, Metro, freeways, airport – that's why [people are renting in this area]," said Luis Negrete, a real estate broker who started his business in 1983 on the E. Third St., "other than that, I don't see that much [incentive to buy]."

Due to its vicinity to downtown Los Angeles, Boyle Heights enticed many blue collar workers who want houses near their work locations but have no desire to own properties in the neighborhood.

.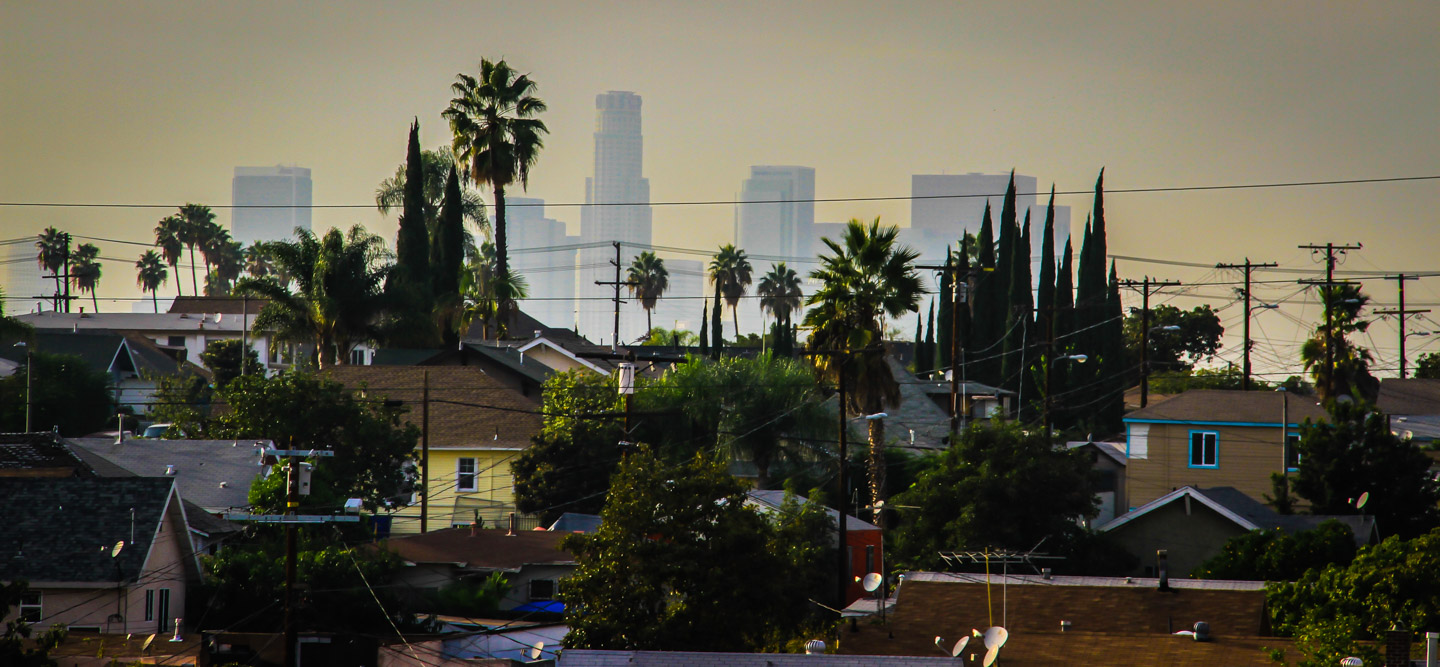 (Boyle Heights is only 2.5 miles away from downtown Los Angeles, where many residents go to work.)
"One thing that's undeniable is the location. This is a prime location [for commute]," said Sergio Ramos, a realtor whose major business area includes Boyle Heights and East Los Angeles.
According to Negrete, the ideal final home destinations for the younger generation no longer include Boyle Heights, and the cultural root is not a factor as important as people thought to be. Instead, neighborhoods such as Pasadena and Hacienda Heights are becoming more attractive as places to own a property.
Take a walk on the streets in Boyle Heights, and you will be surprised to find how many houses were put for sale in the neighborhood recently. "They were not even for sale last month," said Art Kawaguchi, an auto repair shop manager on the E. Third St.
But the number of home sales transaction remained flat and sluggish. Since 2012, not counting investors buying houses, Boyle Heights' housing market shifted further toward renting, said Ramos.
According to East Los Angeles Community Corporation (ELACC), the homeownership rate was only about 11 percent in Boyle Heights, far lower than the average 46.9 percent of Los Angeles County. On the national level, the homeownership rate is about 64 percent, reported the U.S. Census Bureau.
"In this building, a lot of young families did move in. They are just trying to find a place to live on their own. But for them to buy a house, I believe they are not ready yet. They haven't really mentioned it or talked about it," said Jeremias Tomas, the property manager of Sol Y Luna Apartments on the E. First St.
Economists predicted that in 2015, more first-time and younger buyers will "take the plunge on homeownership because the cost of renting will keep going up", and that will "make the security of a fixed mortgage payment more attractive to more otherwise content renters," according to a Los Angeles Times article.
On Monday, Fannie Mae and Freddie Mac announced their plan of backing mortgages with down payments of as little as 3% of the home's price. CNN Money reported that the program largely aimed at first-time homebuyers, and in order to qualify for this new program, the home must be a borrower's primary residence.
Even if predictions suggest that the decreasing cost of buying a house will incentivize more young homebuyers to consider owning properties, in Boyle Heights, it seems that the younger generation are thinking of somewhere else to settle down in the long run.