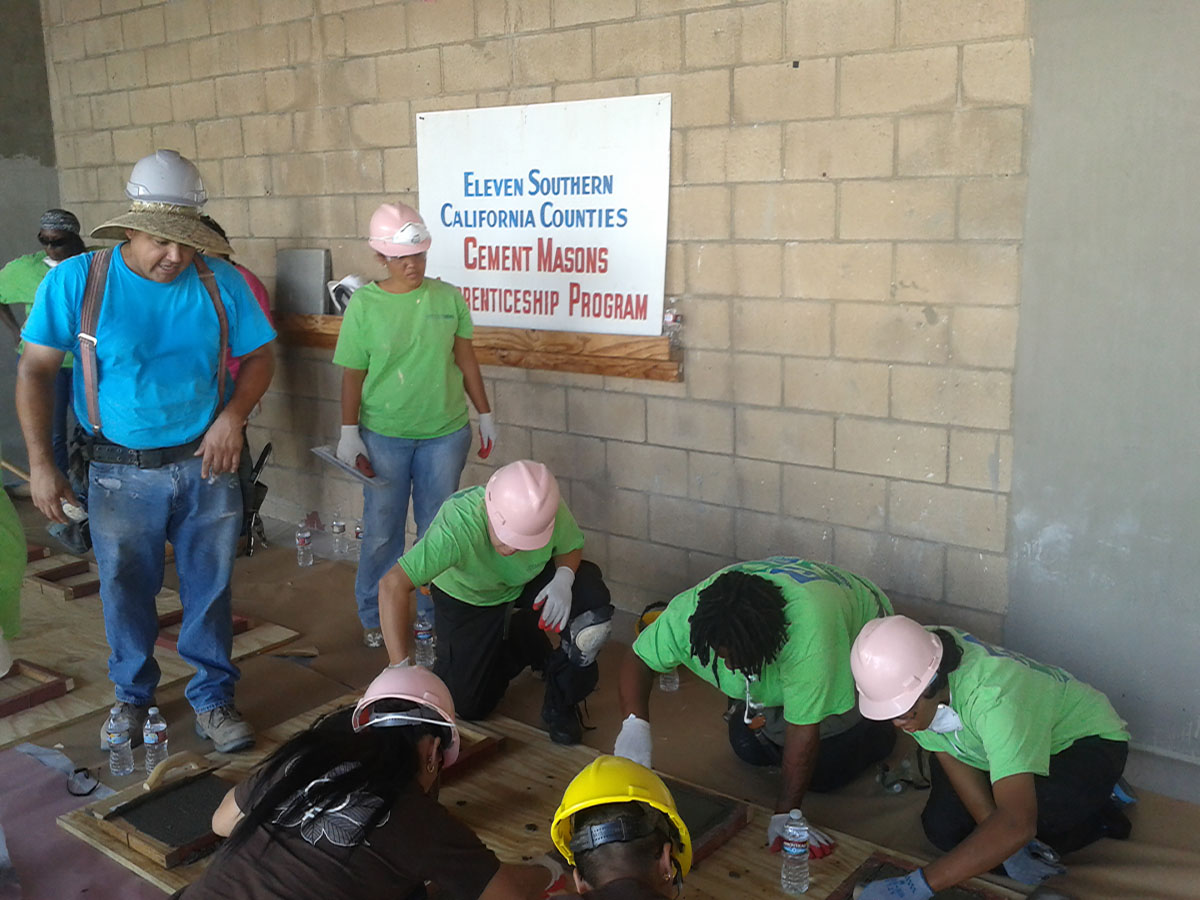 L.A. based nonprofit teaches women skills to overcome gender stereotypes of employment.
Linda Jennings was laid off from her job in information systems technology and IT healthcare just after 9/11, when many jobs in the technology industry were outsourced and there was a shift in funds in the market.  Now, years later, Jennings is exploring new employment opportunities with the help of WINTER, a Los Angeles based nonprofit that provides training and assists women in acquiring higher paying, high skill level jobs.
WINTER, which stands for Women In Non Traditional Employment Roles, was founded in 1996 with a goal to bring more women into trade industries dominated by men.
"We serve only women," explained Deserie Lamp, a case manager and job developer at WINTER.  "Men come all the time and ask if we have a program like this for men, but the fact is there are only one or two percent of women that are in these industries and we want to break those barriers."
WINTER has three offices, two in Los Angeles and one in Long Beach.  Their administration and case management office is on South Grand in Los Angeles, their women's resource and training center is on Cesar Chavez in East Los Angeles and their Rosie the Riveter YouthBuild Program office is on North Studebaker in Long Beach.
Women come from all over and from all walks of life to participate in the free, 10-week training program at WINTER.  Most women typically have very low or no income.
"A lot of times people ask 'what's the catch, how much is it' but no, its free," Lamp explained.   "It costs your time and your dedication but other than that you don't have to worry about tuition fees or covering books.  Even going to vocational schools you have to pay a lot.  With WINTER we will kind of give you an entry position or opportunity to get your foot in the door."
The application includes an informational meeting where the women can make sure the program is a good fit for their needs.  Then, they participate in an intake session where their paperwork is processed and their eligibility is confirmed.  Soon after, they are enrolled in a three day boot camp to make sure they are physically and emotionally prepared for the training.
"The women have to be tough," said Jesse Duran the Program Manager who has been with WINTER for over a year.  "They know when they come to training that they are here to work.  I take the training very seriously both so that no one gets hurt and also so they can get the most out of their experience."
The training covers major themes that include both hard and soft skills.  On the more technical side, the women receive Occupational Safety and Health Administration (OSHA) certification, a general overview of the construction industry, tool awareness, and hazardous waste operations training.  The program additionally includes physical fitness training, mathematics review, mechanical reasoning, reading comprehension, leadership development and general life and work skills training.
This intensive program is not for the faint of heart.  Jennings is 55 years-old but is one of the most fit and attentive of her 20 person cohort according to the other women in her group.  She said her crossfit training has made the physical aspect of the program very manageable despite others' concerns for her age.
She has already learned a significant amount during her training at WINTER and is very pleased with her experience in the program.
"I think this program is an outstanding program in regards to women pioneering in construction," said Jennings.  "This is attainable but we just didn't know until now.  Now that WINTER is here we know, but I think there are a lot of women out there that could take advantage of this program."
Aside from the four days a week and eight hours a day in the classroom regimen,  WINTER also works to help the women gain experience outside their structured training.  The current cohort recently repaired and refurbished a local elementary school in East Los Angeles.  They also work with Habitat for Humanity and Volunteers of East Los Angeles.  With VELA, they participate in the "Handy Workers Program," which allows for the women to gain experience and build their resume while also giving back to local low-income homeowners who need help with housing repair.  The women get to apply their training and the homeowners get free repairs.
"They go out there once VELA gets the houses and they do everything from painting the walls to changing the ceiling fans," Lamp said.  "They change water faucets in restrooms, toilets, they do window stripping...they can get the experience with VELA and they can put it on their resume and they can also learn how to apply it in their daily lives."
While this program has significant promise and strong motives, its biggest challenge is getting people to know that it exists.  WINTER is one of the few of its type in the United States and the only one in California.
Right now, most women discover WINTER by word of mouth, whether it is a referral from a friend or meeting a director at a job fair.
Once in the program, the women each experience their own challenges.  For some, it is learning to work in a team with so many different types of people and for others its sitting through the classroom training, but for Jennings it is something a bit more intimidating.
"The biggest challenge for me was learning how to use the power tools," she said.  "Overcoming the thought of getting hurt, that I could physically get hurt, its just getting over that."
During the course of training each woman faces these obstacles and learns to work with them or overcome it.  
"That's no longer a fear for me now," Jennings said.  "Knowing how to follow the correct safety procedures makes me confident that I can do this type of work."
Duran explained that giving the women a strong foundation and also teaching them an overview of different key aspects to the industry allows them to discover what types of jobs they want to pursue after they graduate from the program.
"My favorite part is watching the women grow and get meaningful employment opportunities," Duran said.  "It's the sense of mission accomplishment. Our goal is to help them achieve life changing employment and when that is accomplished, the whole team is happy."
Jennings and the other members of her cohort will graduate from their WINTER training on December 19th.  This day will mark the start of a new chapter in a journey that the women will make.  For Jennings it will be a shift away from her previous employment positions in information systems technology but, perhaps, a bit more fulfilling and empowering as she joins the other women as pioneers in a field dominated by men.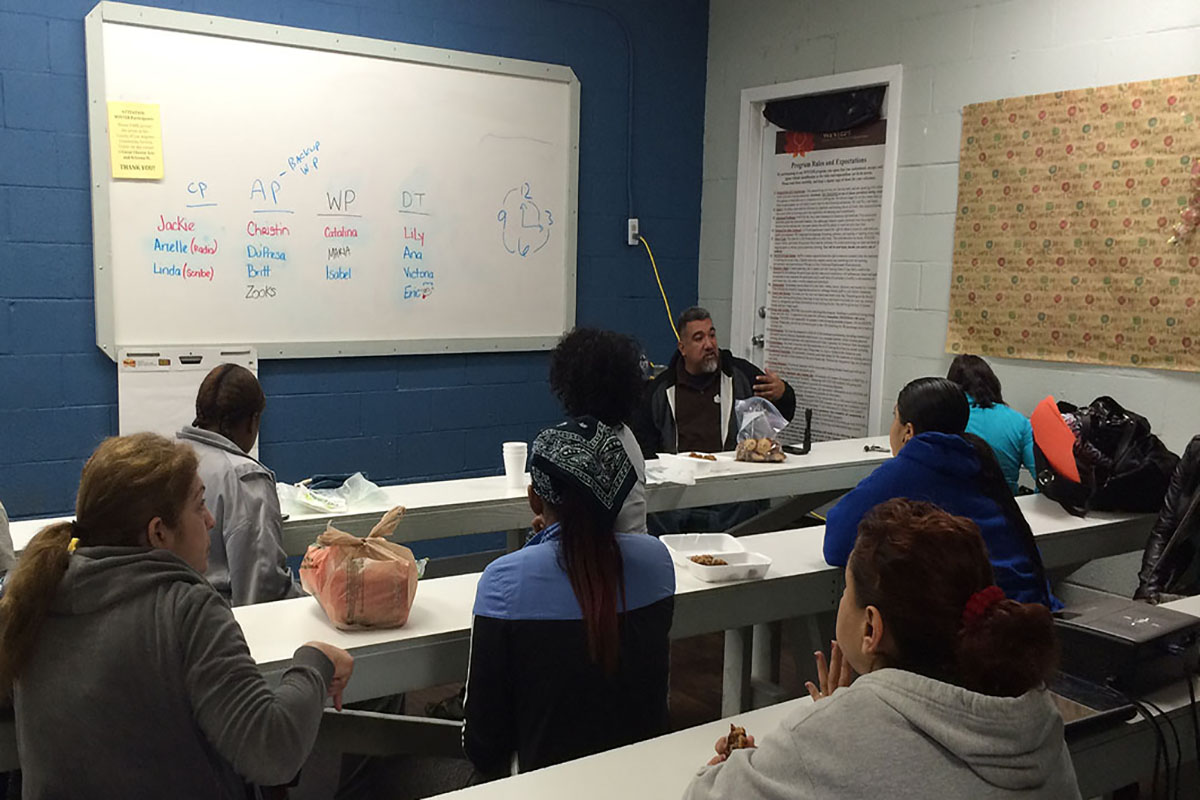 Jesse Duran and the women of the fall 2014 cohort preparing for their hazardous waste hands-on training day.