A Day at the Cemetery Offers Two Families a Feeling of Wholeness
Faith in East Los Angeles is a bit like the unexplainable noises old houses make, impossible to miss. From Sunday services at Our Lady of Soledad on Cesar Chavez to the Bible being taught at the local senior center, faith permeates the area. Whether rich, poor, young, old, man or woman, Christianity is a part of life here. But beyond being a part of daily life in East LA, Christianity helps to fill a whole when the day comes to deal with death. Even for the less devout, it offers a way for family and loved ones to keep connecting with the people they miss.
On the corner of second street you'll find the Serbian Benevolent Cemetery. Freshly churned earth dots the plot, thin wooden crosses standing as temporary placeholders for the yet to come stone slab. It's a simple place, all blue colar stoicism and reservation. You can see from end to end and can't help but notice a certain adherence to substance over style in the yet to wither stones. Just down the street, Calvary Catholic Cemetery offers a different kind of spiritual pause. All rolling hills and mausoleums to wealthy families who were here before Los Angeles became LA. A crematory, mortuary and chapel help fill the grounds, which take over an hour to walk. It is in these places families come to feel whole once more.
Today, Richard and Frank Velazquez have come to that Calvary Catholic Cemetery to visit their parents; though if they're honest, they've also come to visit one another. "We used to come more often," says Frank, "and we're here as often as we can… but we moved away." They grew up in the neighborhood, just down the street, on Eastern. "We decided, today let's go pay our respects, y'know?"
Just a few blocks over Samantha Begovic is spending her day the same way. She walks through the Serbian United Benevolent Society cemetery, poinsettias struggling to escape her cradled arms. She says, "I went and got my mom's death certificate today. She died six months ago, so I just wanted to come and see her and my grandma."
The flowers aren't all for her mom. "It just felt right to bring them. I don't know, there's never flowers in front of some of these," she says with a motion to the other grave sites. The flowers seem to double as a way to put off the moment she came to have. "I miss her," says Bergovic, "but it's good to come here sometimes. Just to be around her again. And my grandma is right next to her so I always talk to both of them."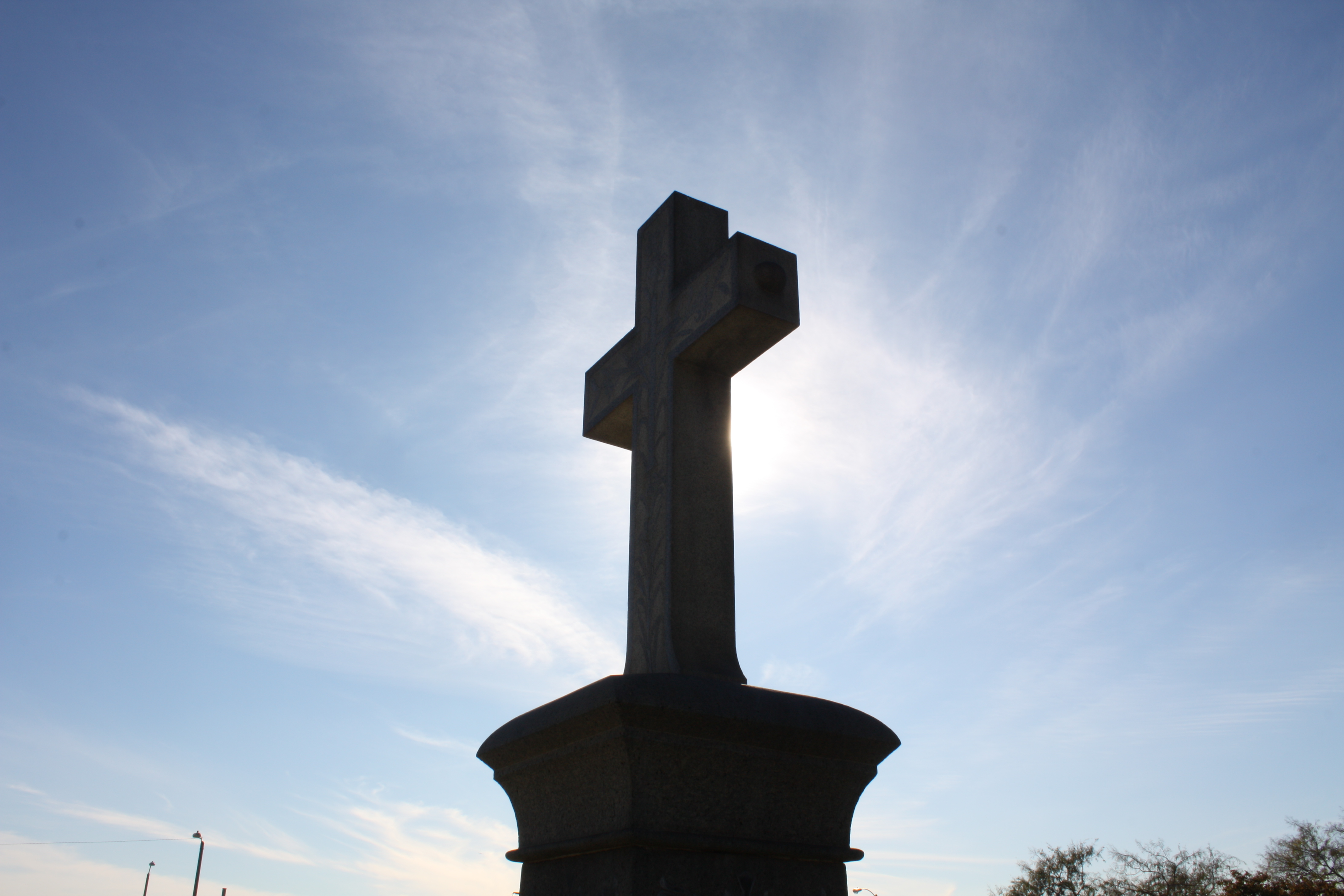 Back at Calvary, the brothers are trying not to show a sense of guilt at not visiting often enough. Frank lives in Arizona now, and Richard is in Rancho Cucamonga, so the two of them use these moments of sitting next to their parents' tombstone as a way to remember what it was like when they were younger, before their age was approaching what can only be described as, "middle." "It's not out-of-the-way, we just need to take the time to do this. It just accumulates on your mind. 'I wanna go, I wanna go." says Richard, "Life is just… it's the time. Life is so in a rush, there's hardly any time to do what you really want to go do…"
Richard says, "Being Catholic was always part of our life. We have three sisters, we all learned it differently but it was always part of growing up." Their parents were openly Catholic, but they never forced the Church on the boys, they were always given the space to find it on their own.
They may have started by getting kicked out of services, but the brothers grew into their faith. These days, it's as important for the connection it gives them to their parents as for the role it has day-to-day in their lives. "Coming and talking to them is a stress relief. It helps us fill a hole. To just go back to life and know they're someplace better than this. We get to live every day knowing mom and dad are someplace better than they were before," says Frank.
Richard adds, "Things have changed around here, the streets are bigger, the houses are different, but we still get to sit here and remember mom and dad. It's nice… it's sort of like you're still near your parents. It's a satisfaction in your soul."
"We'll be here for a couple of hours. Just remember stuff," says Frank, "it can never be that sad. It's like I tell my brother, mom and dad are pretty lucky because everyone else is just dying to get in here."