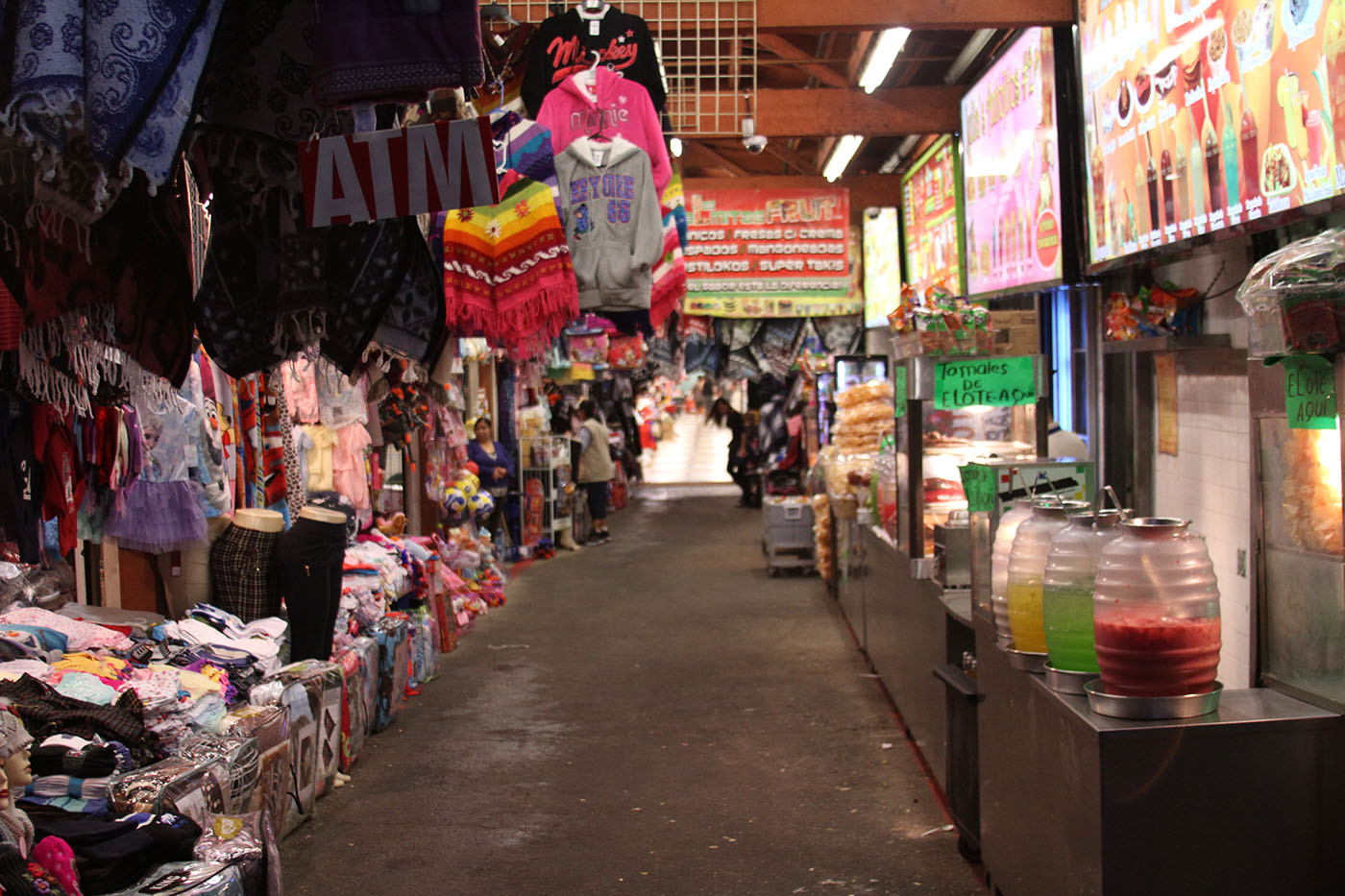 The Market extends outdoors as well with covered stalls selling clothing and freshly made snacks and desserts.
An authentic taste of Mexico in the heart of East LA.
Marlene Castaneda is standing on the corner of First Street and Cheesbroughs Lane holding a large loaf of bread, a tub of homemade mole and a bag of chorizo sausage, fresh from what she considers the most authentic Mexican marketplace in Los Angeles.
"This is the place to come for authentic Mexican food, traditional food," she said, "It's the best tasting food and everybody loves it."
Castaneda, who is Mexican and was born and raised in Boyle Heights, has been coming to El Mercado de Los Angeles in East LA to buy fresh ingredients and specialty foods since she was a child.
"I grew up with Mexican food from my grandmother," Castaneda said, "she's passed away now so this is the only place I can come."
Now, she visits El Mercado twice a week to pick up ingredients to make homemade Mexican cuisine for her own family. This week she is making mole chicken and chorizo and egg burritos with potato and homemade chili.
When you step into the market, you are greeted with a barrage of smells, sounds and colorful sights.
Though a little slow during the week, on the weekends El Mercado can get so crowded that it is difficult to move through the narrow corridors.
The hallways are lined with small stalls and shops filled with colorful goods and shopkeepers chat with customers while spooning fresh mole into containers or answering questions about their goods, while a mixture of traditional Mexican music and American pop music plays in the background.
Vendors hawk their wares in a mixture of Spanish and English, pointing to tables full of homemade mole, handcrafted leather goods and small porcelain figurines.
Carmen Gutierrez is one such vendor. She gets up early every morning to start working at a job that she loves. "I could work all day and every day," said Gutierrez, "I like it."
The Spanish-speaking Boyle Heights resident owns her own bakery, called Lily's Bakery, in El Mercado de los Angeles. The local marketplace serves as a cultural meeting point for many residents of the predominantly Mexican-American neighborhood.
Gutierrez worked in bakeries for three years, before opening Lily's, where she has been working for 14 years. She said her favorite part of this job is being her own boss.
According to Gutierrez, people come from as far away as Las Vegas and Arizona just to buy bread from her bakery. "They come from Pasadena or Santa Ana," she said, "and they say, 'your pan is delicious.'"
Their specialty is pan de fiesta from Puebla, Mexico, which is a long folded loaf of bread baked fresh every day. They also sell a large variety of cookies and tres leches cakes.
Gutierrez's bakery is just one of the many small businesses that have been operating on the Mercado premises for years.
Most of the vendors, who operate small stalls and shops selling goods ranging from homeopathic medicine to freshly baked tres leches cake, have been selling there since it opened.
"All our tenants have been here for a very long time," said one member of the family that owns El Mercado, "talking to them is really interesting."
El Mercado is a family-owned and operated business that has been run by the same family since it opened nearly 50 years ago, according to one family member.
"The Mercado has been here since 1965 and our culture here is Mexican," she said, "It's a Mexican shopping center."
There has been some controversy surrounding the market in the past, with LA Times reporting that there was a time when some residents were unhappy with how some customers conduct themselves after a night of drinking at one of El Mercado's many restaurants. Some even reported their property had been vandalized by market-goers.
Castaneda, however, says the neighborhood loves the market and many locals frequently buy freshly made goods she calls "authentic" and "straight from Mexico."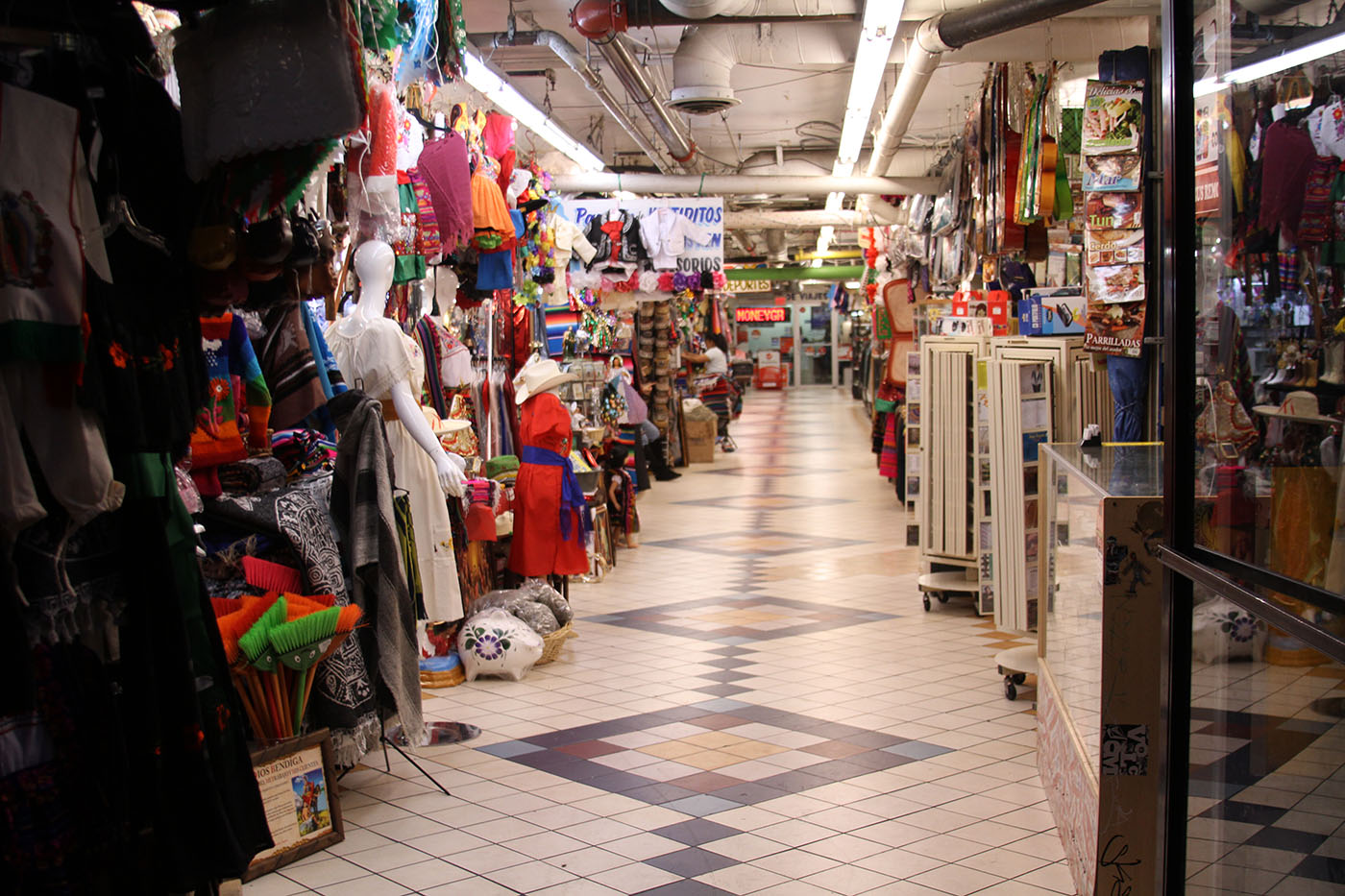 One of the many corridors in El Mercado, brightly lit and lined with stalls selling colorful clothing and Mexican wares.
On December 12th, the Market is holding an all-night festival in celebration of Dia de la Virgen de Guadalupe.
"It's our Virgin Mary's birthday," said the family member, "we do a big celebration for that day. It usually starts on the 11th at 11 o'clock at night and lasts all night."
There is a large statue of the Virgin behind El Mercado, which is brightly illuminated at night and blanketed in colorful flowers and string lights.
"We give out menudo and we leave out bread and coffee and tamales," she said, "That's super Mexican."