The smell of fresh salsa and sizzling carne asada floats through the air and hits your nose as soon as your foot steps off the metro at the Indiana stop in Boyle Heights.
At first, you may think these luscious smells are coming from a nearby restaurant. However, with further investigation you soon realize that a truck parked in the parking lot across the street is drawing many passersby to its windows.
It's not a colorful or fancy truck, but the line is getting steadily longer as the lunch hour ticks by. The alluring smells waft from the belly of the truck and the cooks inside are making tacos and burritos for the hungry customers.
This is one of the long-standing "loncheras", otherwise known as traditional Latino food trucks, that serve the Boyle Heights neighborhood. These are not the typical swanky food trucks with millions of Twitter followers that have popped up all over Los Angeles in recent years.
"I've been doing this for a long time and I wouldn't even think about quitting," says Mateo Arguelles, a cook on the lonchera called A Que Tacos on the corner of Indiana and 3rd Street. "People around here got to eat and we help them out with that."
Arguelles explained that eating at loncheras is a major tradition in Los Angeles Latino culture, and even though A Que Tacos expanded into a restaurant, located in the same parking lot as the original food truck, people still often prefer to eat at the truck.
"I know they have a restaurant now and that's great but my family loves coming here to hang out in the sun and eat," Kevin Moreno, an 11-year-old Boyle Heights resident, said as he took a large bite of his chicken taco while sitting in front of the truck. "We always do and we always have."
Sarah Portnoy, a Spanish professor at University of Southern California who specializes in food and culture in the Latino community in L.A., says that these loncheras don't have to worry about going out of business.
"Street food is a vital part of Latino culture, especially Mexican culture, and in Mexico City alone there are over two hundred thousand street vendors selling food so it's something that's culturally familiar to people," Portnoy said. "It makes sense that it would be part of the street culture of Boyle Heights where a lot of families of Mexican descent live."
Back when loncheras first became popular in the 1970s, many had to deal with city ordinances that wouldn't let them stay on the street to sell food for a prolonged period. However, after Asociación de Loncheras formed in 2008, they have stood up for their rights and the city has grated them permission to sell as they please, according to Portnoy.
Portnoy also explained that loncheras are not competing with the new "hip" food trucks such as Kogi, a Korean barbeque and Mexican fusion truck, or The Lime Truck, another popular Mexican food truck. They are catering to two separate groups of people and attract completely different audiences.
Loncheras, like A Que Tacos, are traditionally meant to serve the working class and are typically seen in the same place each day. The food is cheaper and gives lower class families access to fresh food in their own neighborhood.
Kogi, The Lime Truck and many other trucks that pepper L.A. change locations every day to build their following. They use social media and marketing tools to get their name out there and attract foodies and encourage food bloggers to follow them and write about them. They have modeled themselves after the traditional lonchera model, but with a slightly different spin for a fancier flare, according to Portnoy.
There is one lonchera in Boyle Heights that breaks the traditional mold. It may come as a surprise that it does not advertise, yet people come from all over the country just to get a taste of the famous shrimp tacos. This lonchera, called Mariscos Jalisco, is owned and run by Raul Ortega. The food, according to Ortega, speaks for itself.
"We have a unique thing, these tacos, you don't find them anywhere and as a matter of fact, a lot of people are trying to copy our recipe which is hard for them," Ortega said. "Let's say you live in San Diego and you want to try these tacos, you have to drive."
Ortega originally thought of the idea for Mariscos Jalisco 12 years ago and ever since, he's been working hard every day, starting at 6am, to bring his tacos to the working people of Boyle Heights. He never dreamed that his food would become known nation-wide and attract customers from all ages, places and incomes.
Mariscos Jalisco became a widely known name in L.A. and around the nation after famous food critics from the Los Angeles Times and L.A. Weekly tried his food and wrote raving reviews.
"The most rewarding thing for me is all the chefs out there that come to try out my food, which is a big compliment. We see chefs from New York, from all over the place," Ortega said. "They want to try the best tacos in L.A."
He wants more people to know about the amazing food you can find in Boyle Heights, which is why he does events and provides catering services all over the area. Mariscos Jalisco is usually on East Olympic Blvd. but Ortega makes sure to take his truck near El Mercado de Los Angeles at least one Sunday a month to cater to the families in the bustling market.
"In Boyle Heights you find the best food around and I think it's good for the city because we are attracting people from all over the place," Ortega said. "I've lived here for the last 30 years and it's changing for good so I think better things are going to happen here."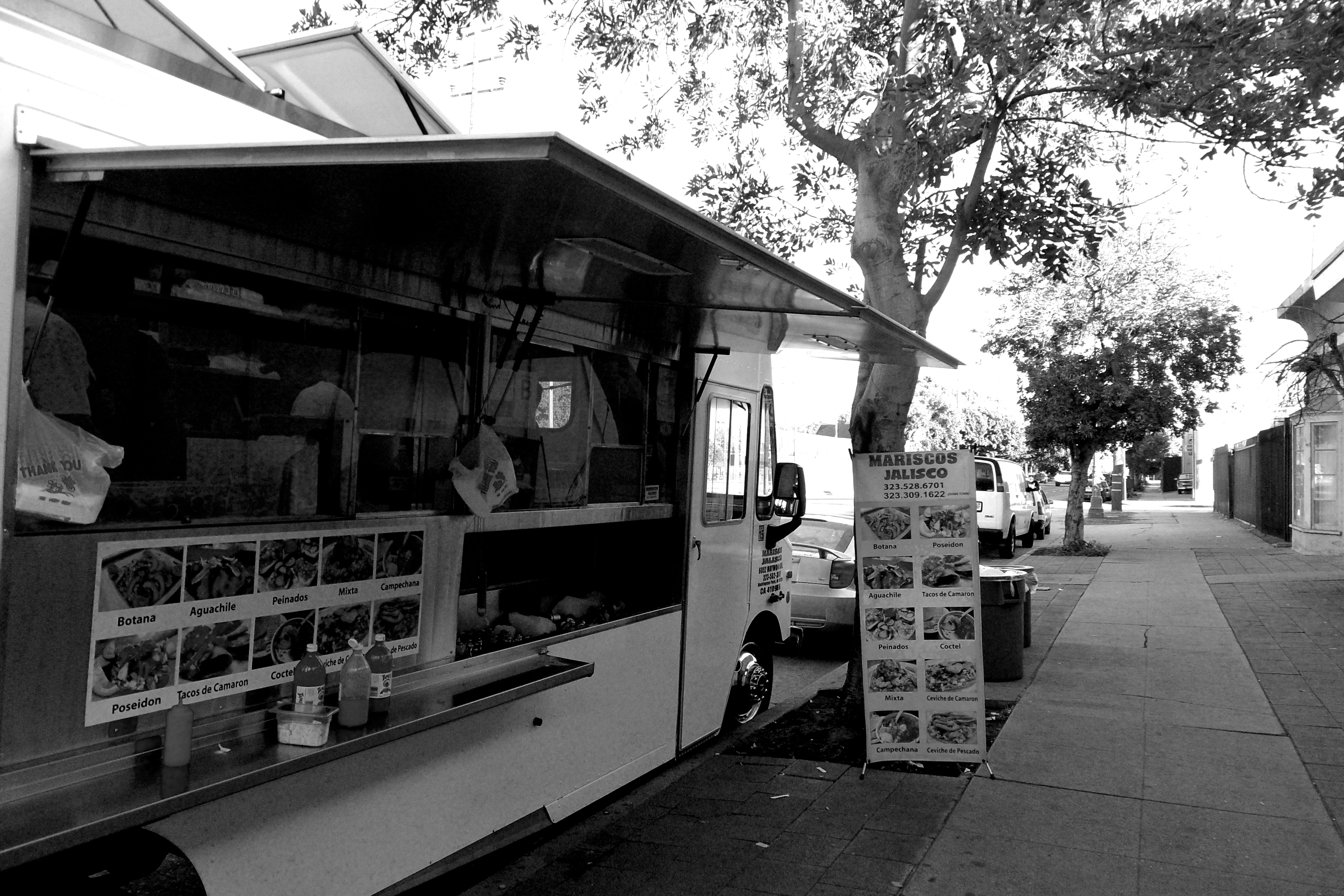 Mariscos Jalisco lonchera parked in Boyle Heights, ready for the lunch hour.