Boyle Heights artsits returned to bring historic murals back to life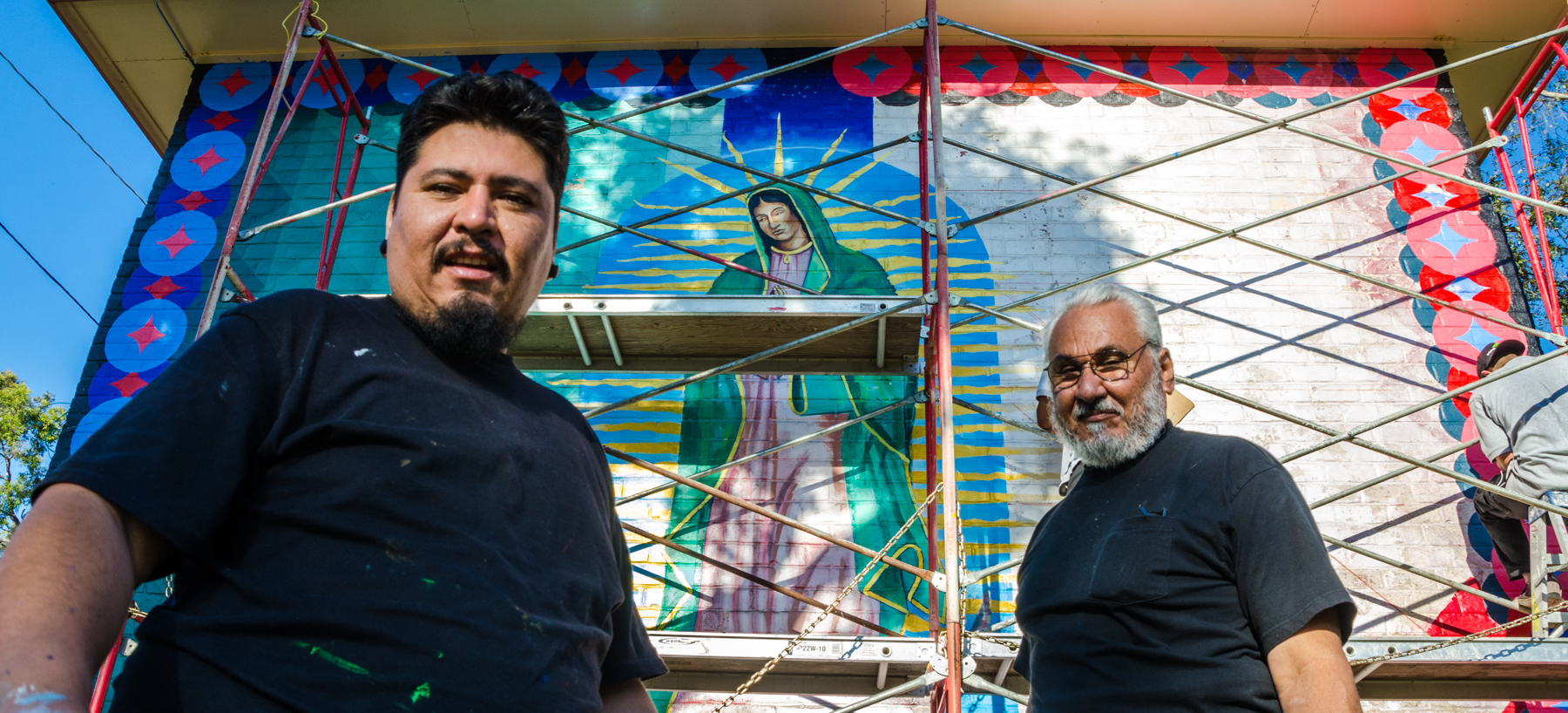 Raul Gonzalez (left) helped to restore a mural created by Joe Rodriguez (right) in 1974.(Jim Li/Annenberg News)
Joe Rodriguez's legs shook unconsciously every time he climbed up the ladder on a two-story wall.
"Watch out, Joe," yelled his daughter Veronica Rodriguez. "Grab that paddle."
The 64-year-old veteran artist dipped his brush into freshly mixed paints and meticulously added strokes to a mural he created on East 1st Street in Boyle Heights almost 40 years ago.
The Virgin, approximately 25 feet tall, loomed over the street with her hands held in prayer and head tilted. Decades of torching and humidity faded the color and cracked the wall, but she still looked serene.
"It's like talking to an old friend again," he said. "It brings back a lot of memories."
Rodriguez left the community to start his business in 1981. He said it was the first time in more than 30 years that he came back and repainted his work.
The restoration on his work was part of a community beautification program led by the Mural Conservancy of Los Angeles, a nonprofit organization dedicated to restoring historic murals in Boyle Heights.
The program, called Keep Boyle Heights Beautiful, provided $3,000 for each of the murals. Most of the money came from the city's cultural affairs department while some was donated by local storeowners and housing groups.
With 15 murals being renovated this year, it served to restore arts on public walls, preserve community memories and even bridge the gap among generations.
"Boyle Heights is the birthplace of the Chicano Movement. It's important to preserve our memory," said Isabel Rojas-Williams, executive director at MCLA.
Born and raised in Boyle Heights, Rojas-Williams said thousands of protestors marched on streets and vowed for their civil rights in the 1970s.
About 90 murals were created during the movement and 30 of them gathered on the same street where protests took place. Rojas-Williams said murals became a way to express community concerns about immigration, gang violence and poverty.
"This is one of the few places in the city where images speak for its history. Mexican Americans communicate through images," she said. "It's inside our blood"
Rodriguez agreed with Rojas-Williams. He recalled that there were eight gangs in the neighborhood during the 1970s. Innocent people were killed even in the daytime.
"People were living in a war zone. You can see people die right in front of you," he added.
Murals of religious figures such as the Virgin Mary appeared on walls as more families came on streets to build altars for the dead. Rodriguez said murals from the 1970s effectively united people and helped the community heal.
"It was the worship and sublimity that empowered and supported us to live through tragedies," Rodriguez said.
Raul Gonzalez, a young muralist at MCLA who participated in the restoration of eight murals, agreed with Rodriguez. He said those historic murals had become a cultural identity today.
Many murals, he added, included indigenous symbols such as eagle, corn and the Virgin Mary. These figures represented roots from Mexican culture and helped people in Boyle Heights recognize their identity.
"They (the murals) tell us who we were, who we are and who we will be," he said.
According to Gonzalez, artists from new generations were seeking to broaden their identity to reflect the community's evolving demographics. But at the same time, they were affected by the styles and techniques in older murals.
"We stand on each other's shoulder and pass on the legacy," he said.
However, Gonzalez also expressed his concerns on losing the awareness among new generations. Lacking educational programs on mural history, the majority of the young residents placed little value on these murals.
"Many cover them with graffiti and take them for granted, thinking they are advertisements," he said.
According to Gonzalez, he had four of his murals tagged and whitewashed this year. When seeing teens tag murals, he assumed a lack of connections between the murals and new generations.
"The murals don't speak to them anymore," he added.
Rojas-Williams agreed with Gonzalez. She said the exchange of knowledge and passion between generations was the key to unifying the community.
Her organization held an after school workshop every Friday to teach underprivileged children about street arts and mural histories. Next year, the group will host culture tours where visitors see murals as fine art on public walls and community members can observe their lives, culture, and struggles.
"We need to learn about the important roles that heritage and tradition play in our lives," Rojas-Williams said. "The future won't exist if you don't know the past."