Nestled in the middle of East Los Angeles is Hollenbeck Park, a recreational space that is the only one of its kind in the surrounding area. Nearby residents of all ages flock to the park on a daily basis for a variety of reasons, whether its to engage in exercise, meet up with friends and family or take a mind-relaxing stroll around the lake. All in all, the park provides a safe place for people to part take in their daily activities and leisure time. Here, we take an in-depth look into what makes the park so popular and accessible.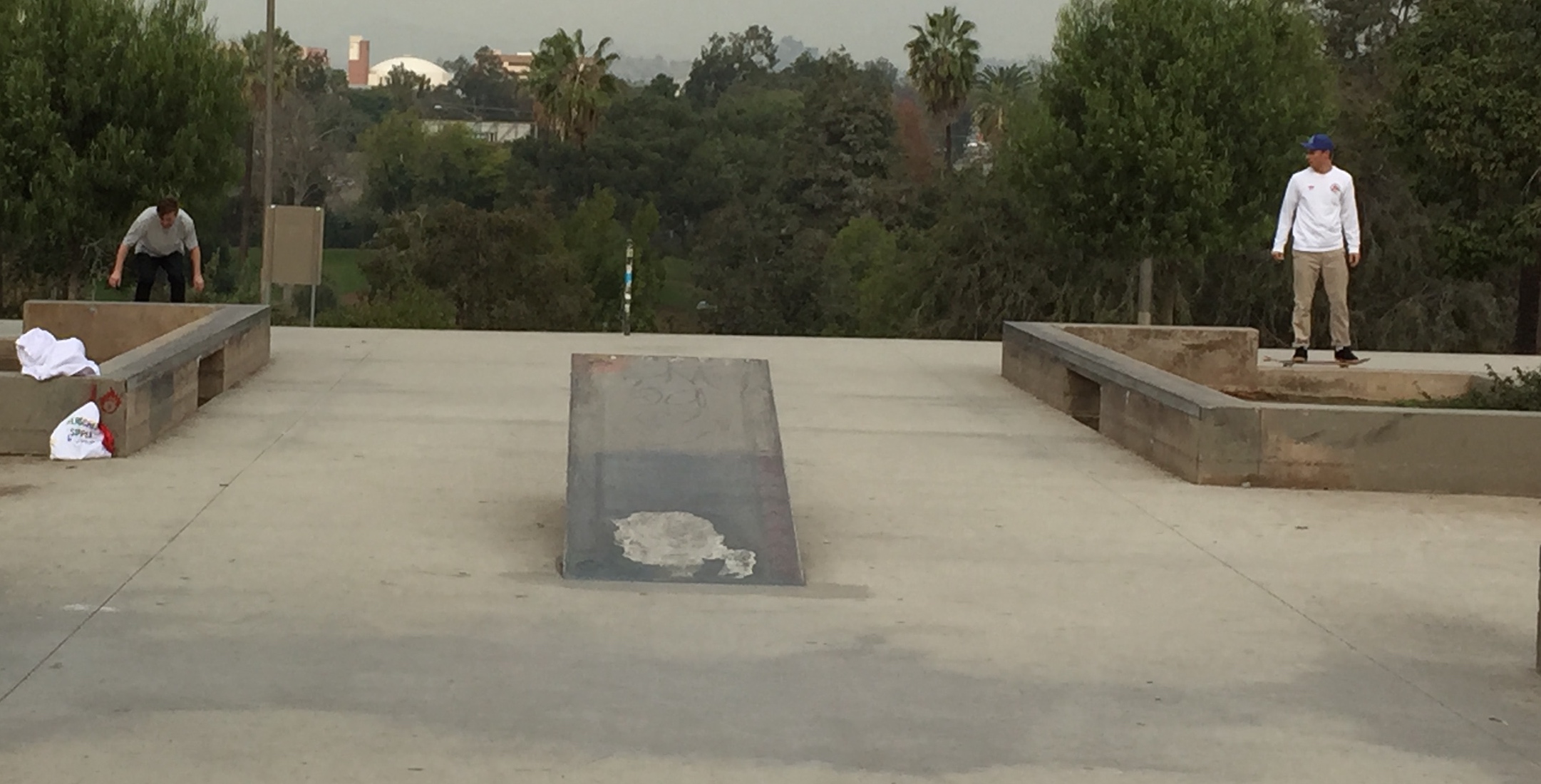 One can find Boyle Heights resident Fabian Selgado running and navigating the trails of Hollenbeck Park on a daily basis.
The 20-year-old Selgado frequently makes the trip to the park in order to get his dose of cardiovascular activity for the day, while simultaneously getting his mind off all of the stresses outside of the park.
"When I have problems, there's nothing I'd rather do than come down here to Hollenbeck Park and clear my mind," Selgado said. "It's just a bonus that I can get a really good workout in too."
The park serves as an escape for a lot of residents in the surrounding East L.A area, like Selgado, and provides a safe and healthy place for people to be active in an area where there is not much space designated for fitness and recreation.
Located in the middle of historic Boyle Heights, the park features a variety of different opportunities for visitors, both young and old, to engage in physical activity. Features include a lake with surrounding trails and walkways, a play ground, an outdoor gym area, a plethora of green space and finally, a skate park.
The idea of having outdoor exercise equipment throughout the park was conceived just a few years ago and came about due to the fact that there weren't very many affordable gyms, or fitness centers at all, in the surrounding area, according to Kelci Verdugo, the director of facilities for Hollenbeck Park.
"I like that I'm able to work out outdoors in such a beautiful environment surrounded by nature and usually, not that many people," said resident Carlos Hernandez , 42. "You can't get this at the gym."
For the younger crowd, the 14,000 square-foot "Safe Spot Skate Spot", which was developed and opened by professional skateboarder Rob Dyrdek in 2009, is the highlight of the park.
The "Safe Spot Skate Spot" Program was brought into reality by Dyrdek in order to create safe havens for kids to skate at across the country and is supported through the Rob Dyrdek Foundation. According to the Foundation's website, these skateboarding havens are designed to give street skateboarders a safe area to skate in a park's natural landscape complete with the desired elements such as park benches and rails.
"Beyond promoting and encouraging the sport of skateboarding, each plaza provides skateboarders with much needed legal and safe skate spots where we can enjoy the sport we love," said Dyrdek on his Foundation website.
Parents are also huge proponents for the skate park because it gives their youth a safe environment to go to and be active when they're not in school.
"The park is really great because it keeps our kids off the street and out of trouble," said Daniela Ramirez, a mother of two teenage boys. "Before, they didn't have anywhere safe to go and hang out."
Dyrdek and his Foundation have plans in the future to build at least one of these skating venues in each of the 15 Council Districts within the City of Los Angeles.
As for Hollenbeck's tri-level skate plaza, it incorporates just about every element a street skater needs including a trio of stair sets, rails, ledges and a ramp that rests in the center of the park.
"There's nothing I love to do more than come home from school and go to the skate park and chill with my friends," said Jordan Loney, 15. "It's like my second home."
The set-up and amenities of the skate park resonate very well with local skaters.
"It definitely gives us a lot of freedom to try out different things and there's always new tricks to learn, which makes it fun," said Jason Mendez, 16.
It's also common to see BMX riders, rollerbladers and scooter enthusiasts showing off their moves in the park. However, the skate plaza functions as more than just a meeting place for action sports, as weekly yoga and fitness classes are also held on its grounds.
Boyle Heights resident Maria Bonilla, 34, hosts a once-a-week fitness bootcamp for women. Bonilla's workouts include a variety of different exercises that involve up-hill running, kettlebell and weight lifting and a variation of Pilates.
"It's really hard to find places to workout and exercise in this neighborhood so I thought it would be a great idea to offer these classes to women in the area who are looking to get into shape," Bonilla said. "And what better place to do it than Hollenbeck Park which is beautiful, especially in the fall."
The weekly class began in 2013 and Bonilla has received some rave reviews from her students.
"I look forward to the class every week because I always know I'm going to get a really good sweat in," said Marissa Fernandez, 37, who started attending three months ago.
Another student said that she has been able to incorporate a few of Bonilla's exercises into her daily exercise routine and has really made a difference.
"I now do Pilates at my house now after learning it from her and I've been a lot healthier since," said Isabella Moreno, 39.
Bonilla's class is just one example of the extracurricular programs that the park offers. It also hosts a variety of youth after-school programs and has previously held other outdoor events such as picnics.
Overall, whether someone wants to exercise, part take in action sports or just come for the scenery and to get their mind off of things, Hollenbeck Park serves its purpose by providing the surrounding community with a healthy and welcoming oasis that promotes overall wellness for all.
"That's the goal at the end of the day," Verdugo said. "To provide everyone with a safe and clean meeting place for activities that cleanse the body, right in the heart of Los Angeles."