Picking between Chipotle, Little Mexico and Denny's.
In East Los Angeles, the population is predominantly Hispanic. The United States Census Bureau reports that 97.1% of residents are Hispanic, while 1.5% are White alone and 0.8% are Asian alone.
With such a majority, there is then no surprise that many of the restaurants in the area serve Hispanic food.
Some are mom-and-pop eateries that have been owned for generations by families (like Lupe's Burritos); some are chain restaurants that have been Americanized (like Chipotle). For those who are less inclined for a taste from south of the border, there are Burger Kings, Yoshinoyas, and Asian buffets scattered around the area.
But the most important question is - which of these Hispanic options are the most popular? Judging by the stability of both authentic and chain restaurants, East Angelenos are just happy to be fed.
Still, the locals and passerbys have solid opinions about which type truly dominates East Los Angeles.
In a survey conducted in East Los Angeles (Specifically between the confines of McDonnell Avenue, Cesar Chavez Avenue, Fraser Avenue and Olympic Boulevard) over a period of three weeks, 100 people were asked various questions regarding authentic and chain restaurants.
The results of this survey can be found in the infographic on the right, or summarized here.
Of the 100 people who were kind enough to pause for a few questions, 72 of them were locals of East Los Angeles (or relatively nearby) and 28 were merely passing through.
A total of 62 people, both local and visiting, said they prefer authentic restaurants.
When asked if they would be willing to pay a little extra for authentic food, 61 said they would.
When asked if they would be willing to go out of their way to find an authentic eatery (which might require a farther drive), only 46 people said they would do it and 54 others said they would not.
When asked for a simple response as to what one gets at an authentic restaurant that isn't available at a franchise, those who prefer authentic eateries had several interesting responses (See below).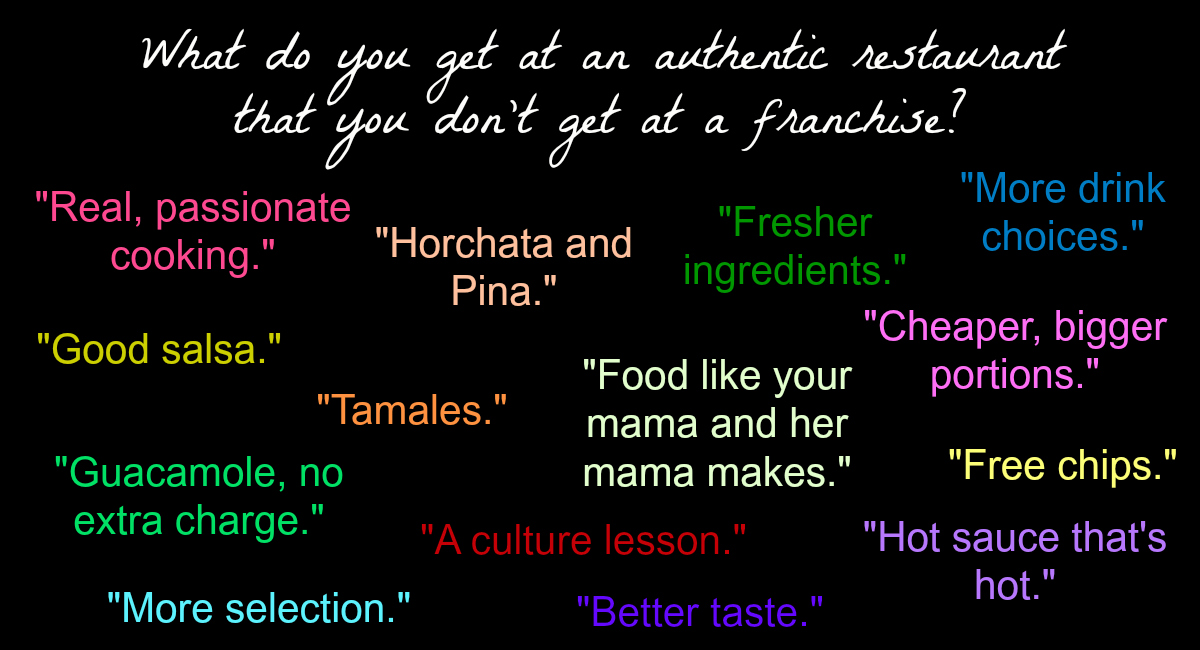 Joseph Ruell shared that he is an avid Yelper and enjoys traveling to different parts of Southern California whenever he has time to review all sorts of eateries. Any place with good home cooking (Especially Hispanic or Italian) earns top ratings from him.
"Authentic food is real food," he said. "It tastes like home… Home beats fake factory food any day."
Some, like Gerald Stoffeld, disagree with Ruell and assert that his selective palate is exaggerating the poorer quality offered by chain locations.
"If I'm on the move, I don't have time to pick out a place that's super authentic. I get whatever's closest to me, you know? It's not much different when you really think about it," Stoffeld said.
Stoffeld means that both authentic and franchises - Lupe's Burritos and Chipotle - offer a burrito or other Hispanic food the way you like it. There's ways to customize it to your liking, which he says is more preferable than a single, strictly traditional presentation.
The Velasquez family, however, argue tradition trumps new-age. They dined at Lupe's Burritos for dinner one Friday night, and have been doing so for decades.
"We've been coming here [to Lupe's Burritos] for forty years… Since the original owner worked here. It's our favorite spot. There's a reason for that. Authentic places taste better, they're run by better people," Jorge Velaszquez said.
His daughter Ana Velaszquez nodded in approval.
"A real burrito place gives you a huge burrito and doesn't skimp on sauces," she laughed. "That's why real wins over chains."
Naturally, there is disagreement over what constitutes as legitimate cuisine and what is Americanized to fit public consumer desires.
Some, like Steph Moya, question the authenticity of "authentic restaurants." She sees food trucks, Chipotle, and King Taco as "real enough" when it comes to offering delicious, Hispanic food. To her, labeling a restaurant as "Hispanic" or "Mexican" means she's fulfilling her craving for a burrito or taco… No matter how Americanized its ingredients or process may be.
"In my experience, chains get the job done when you're hungry," Moya said. "I like a taco food truck every once in a while, but I go to Chipotle and Taco Bell more often. And that's fine by me."
Moya and Stoffeld's claim that authentic eateries and franchises serve almost identical food begs a more in-depth look. Does a Chipotle burrito have all the elements of a burrito from Little Mexico? Are Chipotle's burrito bowls even considered authentic? Does a popular franchise offer tamales and sopes?
The following is a comparison of menu options between the two types (Most pictures are credited to the Yelp user who took them, or are otherwise taken by the writer Kathy Zerbib).
Needless to say, East Los Angeles and its visitors have plenty of dining options around the area.
Though no definite winner - authentic or francise - can be determined, feel free to hop over and choose one for yourself. Allow Yelp to be your starting place.