From helping their kids to rewriting history, adults talk about returning to school.
It's common knowledge that education can unlock better opportunities, but for many individuals finding the courage to step into a classroom for the first time or even after several years, seems like a daunting task.  
Several adults in Boyle Heights have found the inspiration to take control of their education by attending courses at PUENTE Learning Center, a community organization that provides adult education programs. The courses help students get their high school diploma, speak and write English fluently, learn how to operate computers and help with potential job opportunities.
For Boyle Heights resident, Francisco Castañeda fear wasn't a factor in entering the center's halls, as he was determined to succeed for his daughter.
"I want to learn the language because it's very important for me to know how to speak English so I can help my daughter when she asks me something about her homework," Castañeda said.
Castañeda was 19-years-old when he moved from Mexico to California after he and his siblings became American citizens. Now with five children, the youngest only nine, Castañeda is hoping to achieve his long awaited educational goals and help his kids gain the education he never did.
"My brothers speaks good English because they went through high school here, but I didn't have the chance to study when I came because I had to work to support them and than to support my own family," Castañeda said.
Like Castañeda, timing and opportunity is everything when it comes to deciding to head back to school explained, Boyle Heights resident and three year PUENTE adult student, Elivia Ruiz.
"I never had the opportunity before. I came from a very dysfunctional family and in my country I only went [to school] until second grade," Ruiz said. "Later when I finally came to America I was married, had four kids and I was busy raising them up."
With her children already grown, some mothers themselves, Ruiz took the first opportunity she had to focus on her education. She recalled the motivation her children gave her to follow her heart.
"I was motivated personally and by my kids because I wanted to show them it's never too late to learn," Ruiz said.
Castañeda, Ruiz and other immigrants desire to enter adult education programs is not uncommon, according to the California Department of Education. Adult education serves an increasingly diverse student population which also includes adults with disabilities, low-income disadvantaged adults, homeless adults, incarcerated adults, single parents and displaced homemakers.
For other students, the motivation to become proficient it literacy comes from a desire to rewrite past struggles spent in the back of the class.
This became the case for Juan Cervantes, a Boyle Heights native who grew up attending the public schools in the area, but at the age of 42, still had struggles reading and writing in English, his first language.
"I got cheated out of education," Cervantes said. "For some reason the school board never taught me how to read; I didn't learn to read in prison and so I gave myself another chance by coming back to school."
Flying under the radar until a teacher would ask him to read a book out loud or answer question about reading comprehension, Cervantes took comfort in cracking jokes and becoming the class clown in order to divert attention away from his struggles and get out of having to let his high school peers or teacher know he couldn't read.
"There is a lot of people that have the same issues, I just figured they are too embarrassed to come out and say 'I can't read,' so if they can just get through life without telling another person they can't read they'll be alright," Cervantes said.
As a teenager, Cervantes attended Roosevelt High School in Boyle Heights until he was sent to a continuation high school by the administration. Not long after, Cervantes dropped out of high school completely.
"Now when I step back into this the second time around I'm more comfortable and understand," Cervantes said. "I just can never give up."
Cervantes is among several other students within the adult education program, hoping to redefine their educational experience for their families and for themselves now as adults.
Reach Staff Writer Celeste Alvarez here or follow her on Twitter here.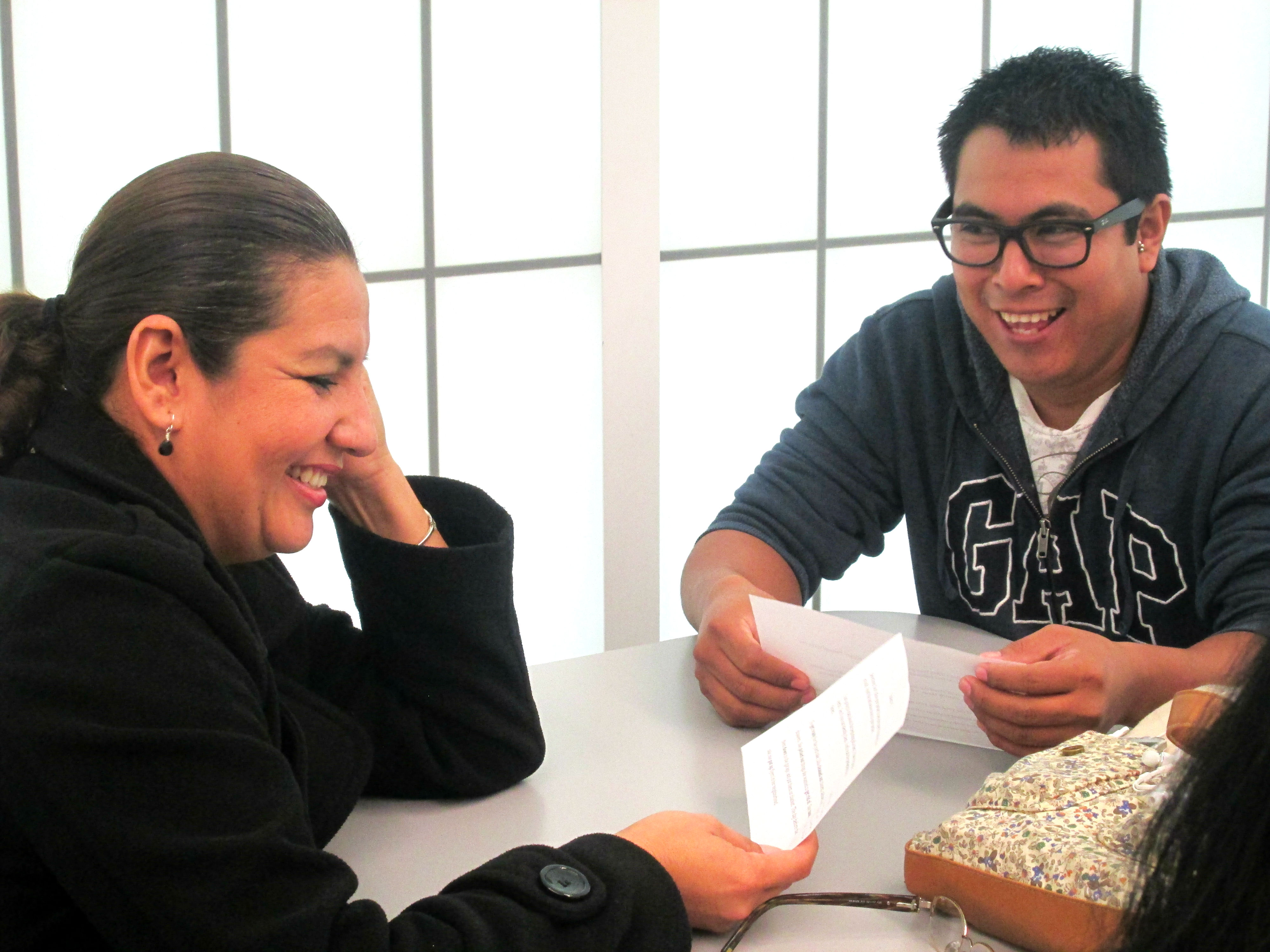 Boyle Heights resident Dolores Bravo works with a partner to finish in-class work at PUENTE Learning Center in Boyle Heights.