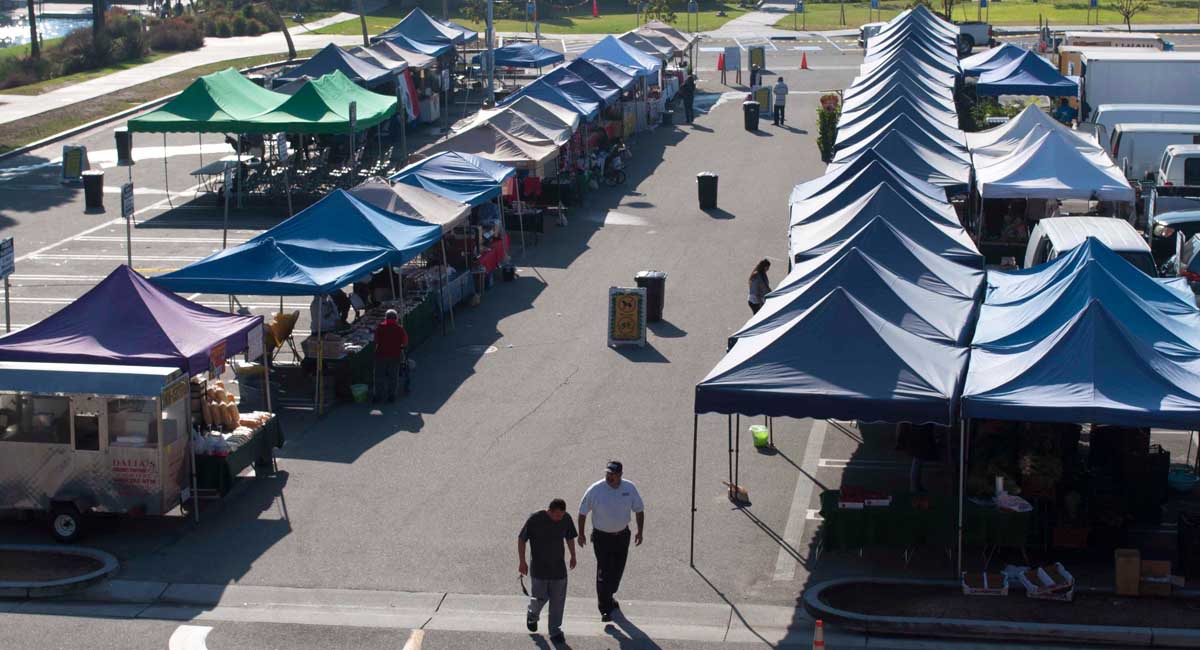 A bird's eye view of the East Los Angeles Farmers Market.
How far does food travel before coming to a farmers market?
Lettuce, berries, carrots, green beans – fresh food overflows tables at the farmers market in the East Los Angeles Civic Center parking lot. With few large grocery stores and a handful of small mom and pop markets which offer small quantities of fresh produce, people who live and eat in East Los Angeles do not have many quality food options. This farmers market strives to transform East Los Angeles from a food desert to a place where food is accessible and affordable.
Volunteers of East Los Angeles (VELA) is an organization that aims to empower individuals, families and businesses and to improve neighborhoods. This organization started the farmers market at the East Los Angeles Civic Center 8 years ago. Every Saturday from 9 a.m. to 2 p.m., farmers sell their fresh produce and vendors offer snacks and meals made on-site.
Each week there is a different educational program that covers topics such as economic impact of buying local food, fitness tips and activities for kids. On the first Saturday of every month, there is a healthy cooking demonstration, which for December showcased a recipe for warm kale salad with turkey bacon, dates, almonds and crispy shallots.
At most farmers markets, the vendors must bring their own tables and tents. Conversely, VELA volunteers set up the farmers market in the East Los Angeles Civic Center parking lot at sunrise, providing these bulky and often difficult to transport, but necessary, items for the vendors.
The East Los Angeles Farmers Market takes up about half of the civic center parking lot. Rivas goes to other farmers markets in the area to ask vendors if they are interested in selling at the East Los Angeles Farmers Market. "The furthest [vendor] comes from Fresno… everyone else is from Riverside, Los Angeles or Compton," Rivas said.
Kelly T. Sanders Ph.D., a sustainable agriculture and food systems expert, emphasized that the distance and means through which food travels can heavily impact the environment. Ships initially carry most imported food, while food grown in the U.S. is delivered by vehicle (anything from an 18-wheeler to a small pickup truck). "We've created this pretty efficient system," Sanders said. "In terms of moving produce around by boat, it is actually incredibly efficient for carbon emissions per unit of weight moved."
While buying locally grown food is usually helpful to the environment, Sanders said in some cases the large-scale transfer of food might be more environmentally sustainable than local transfer, depending on the transportation source. For example, an inefficient pickup truck bringing food from 100 miles away could potentially pollute the air more than a boat bringing food from 2,000 miles away.
In states like California where a variety of produce is grown all year long, it is smart to buy local food. But in some states and some situations it can be more environmentally conscious to buy imported food. Although, eating homegrown produce is one of the best things you can do for the environment. "If you grow your food where you eat it, that's ideal," Sanders said.
Castellanos' Farms sells their products at the East Los Angeles Farmers Market, alongside others markets from across the southland. Their food is farmed in Riverside. "We rarely go to grocery stores to get vegetables because we already have them," Vanessa Castellanos, whose parents own Castellanos' Farms, said.
Gaytan Family Farm, which also sells its produce at the East Los Angeles Farmers Market, has local farms in Chino, Miraloma and Santa Maria. They sell mostly vegetables, but also have fruit such as berries and eggs from chickens raised in Chino. "We don't use any hormones," Vincente Gaytan said. Despite growing many different products, Gaytan said he buys his food from grocery stores instead of eating his own farm's products.
Many shoppers said they supplement their shopping from large chains at this farmers market. "Saturdays I come here, and I also go to Food 4 Less for items like bread, pasta, milk and juice," Irma Rodarte of Montebello said.
The East Los Angeles Farmers Market gives the community an opportunity to make conscious choices both for personal health and the well-being of the environment.