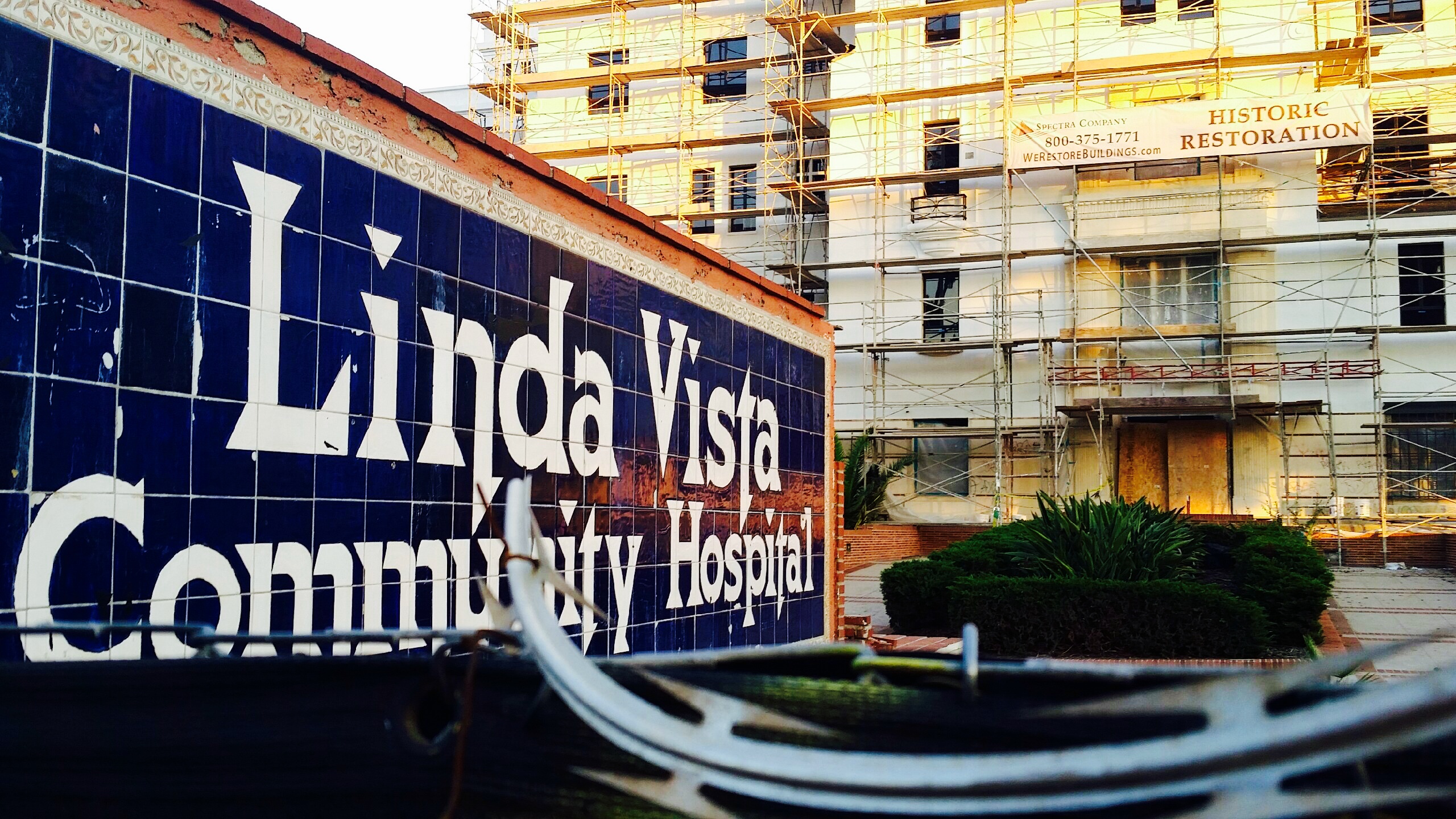 "What are you here for? The haunting?," asked a hunched over elderly man at least in his mid-70s.
Jay Licon, a resident of the Boyle Heights neighborhood in East Los Angeles for the last 67 years, makes it a habit to walk past the Linda Vista Community Hospital every day during his routine afternoon walks.
At first glance, the hospital looks like your usual decrepit old building visibly in the process of a much-needed makeover. There are several gaps around the back end of the building where windows once stood. The entire perimeter of what's left of the hospital is barricaded with an wire fence so uninviting only a mischievous group of teens would dare to jump it.
But, for the people of Boyle Heights it is so much more than an "under construction" historical site as designated by the Los Angeles Cultural Heritage Commission. Ask anyone from the area and more often than not, they will tell you the hospital is also haunted.
The 200,000 square-foot building now covered in scaffolding from the pavement up is one of the oldest standing buildings in the area.
It first opened in 1905 as the Santa Fe Railroad Hospital, which at the time only served Santa Fe Co. railroad employees. It was not until the hospital was acquired by another company that it was available to the public.
Although Linda Vista Community Hospital has long since closed down, mere talk of its existence and its stories continue to live on by word of mouth from the people who know the area best.
Licon recalls his very first visit to the hospital when it was still operating.
J. Licon during one of his afternoon walks. Photo Credit: Kay Angrum
"I've been in this hospital. I was gun shot, you know and [the hospital] was good. People were nice, but it was the environment. At the time, it was real bad between the gangs."
Just two decades ago, growing up in Boyle Heights often meant living in constant fear.
This neighborhood located just east of Downtown Los Angeles was one of the few places local gangs could call home. Unfortunately, what was usually the case was that with these gangs came violence and, with the violence came a laundry list of homicides and grim stories many locals, like Licon, would live to talk about.
Licon was admitted into Linda Vista Hospital Community more than 20 years ago as a result of a gang-related assault. According to Licon, who was once in a gang himself, a lot of the admitted patients were victims to gang violence.
In the 1980's, Los Angeles was struggling to deal with escalating gang violence and gang membership. At that time, Boyle Heights had more gang members per capita than any other place in the country. This made it increasingly difficult for Linda Vista - the closest hospital at the time - to safeguard itself from the dangers that lied only footsteps away from its double doors.
"There's gangs in here that for a long time have feuded and [doing] drive-bys and everything. So, when you come to a place like this and they rush you in, you know sometimes you do make it. A lot of times you don't."
During that time, Linda Vista was very understaffed and had reported an unusual amount of in-house deaths that made it difficult for the hospital to work. In 1991, the hospital shut down for good.
Since its closure, the abandoned hospital has managed to withstand the hands of time. Although not a single patient has walked out of the building since it last closed down, what remains on the inside is what has Boyle Heights' residents shivering in 90 degree weather.
The word around Boyle Heights is that the 109-year-old hospital is now home to ghosts and the paranormal.
Licon recalls this one story about the ghost of a little girl who roams the vacant hallways at night.
"She got killed. Everyone says they see them and then the little girl, well.. she got killed on a drive by and that's how she died."
John Siebert, a patrol officer in the Hollenbeck Patrol Division of the LAPD was on an assignment two or three years ago inside of the hospital with a group of investigative professionals, called the Paranormal Housewives when he says they heard the little girl for themselves.
"We're in there and supposedly there was a little girl who, between the ages of 7 and 12 had died. I forgot how she died, but they say at night sometimes or early in the mornings, you can hear a little girl playing with a laughter and crying. And, you can hear a ball bouncing down the hallways or you could hear a children's bicycle going up and down," said Siebert.
The officer whose eyes lit up as though this paranormal encounter was just yesterday is very familiar with the hospital.
Before the hospital closed for construction about two or three months ago, Siebert says he and his patrol division would use the eery building as a training facility to do searches at night.
According to Siebert and his colleagues who had also been inside of the hospital at one point or another, it was a "very creepy" experience even for "big men like themselves."
Linda Vista Hospital's facilities were used in several notable TV shows, like ER, Buffy the Vampire Slayer and the Travel Channel's Ghost Adventures. It's also been the set of various films and music videos.
Despite it not operating for the last 23 years, Linda Vista Community Hospital has managed to withstand the hands of time. For senior citizens like Licon, the hospital is a reminder of a dangerous time in Boyle Heights' history.
Neighbors Share Their Ghost Stories
For this generation of teenagers and their parents, the hospital is a mere legend very few have had the chance to experience themselves.
"I've never been inside. My parents won't let me. I remember one year my friends and I were going to go to the hospital, but my parents didn't let us, because they said scary things happen there," 17-year-old Genesis Fermin said of the hospital.
Today, the AMCAL Multi-Housing Inc. company has plans to turn the 4.2-acre hospital into an apartment complex for the elderly. The housing company has already renovated the former nurses dormitory or what some heard to have been an insane asylum into Linda Vista Senior Apartments.
The Hollenbeck Terrace Apartments will consist of 97 units of affordable senior housing. AMCAL Multi-Housing Inc. expects the apartments will be done by fall 2015.
View More Haunted Places in Boyle Heights in a full screen map