As big business increases in the ever-growing city of Los Angeles, the small businesses of Mariachi Plaza are not only fighting to keep their doors open, but also to preserve the Latin culture of their community. The shops, with support from each other and the neighborhood, hope that their efforts will keep business local in Boyle Heights for generations to come. Here, a look into some of these businesses, accompanied by multimedia elements that present a virutal walk along E. First Street.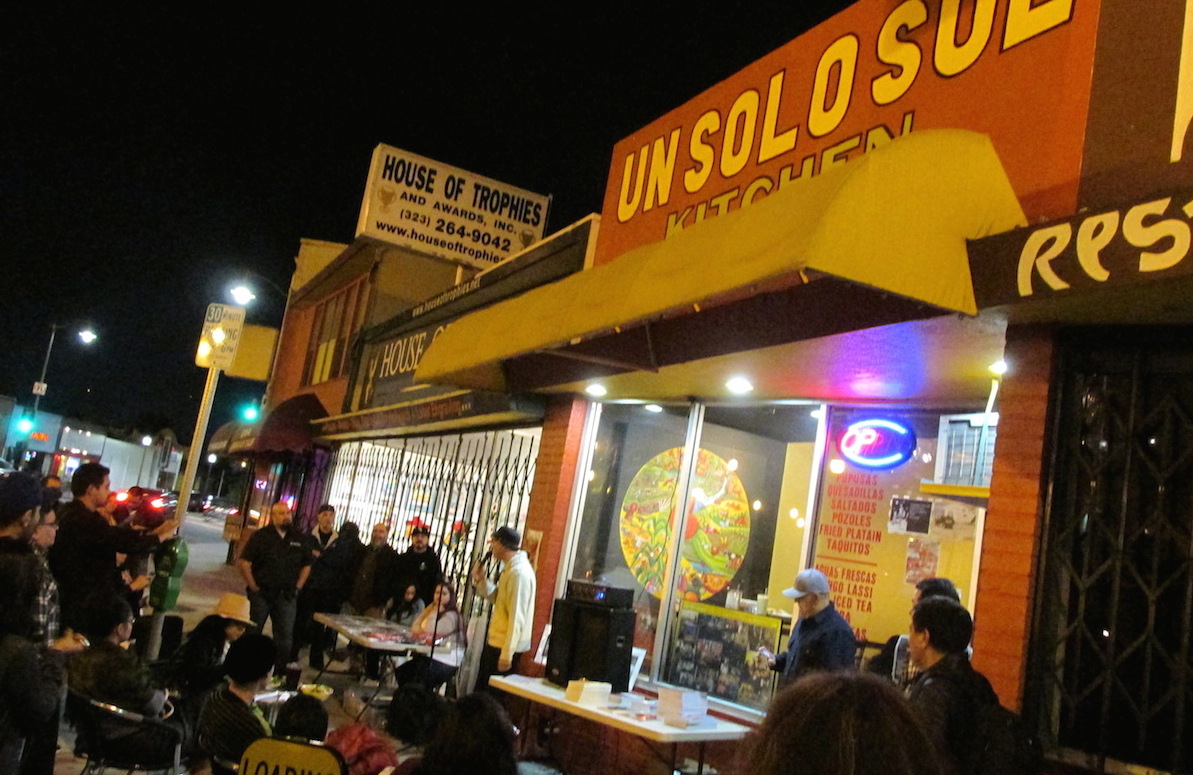 A small crowd is growing around Un Solo Soul Kitchen on E. First Street in Mariachi Plaza. Right outside the local restaurant, a slam poetry reading has seemingly spontaneously begun and outside patio diners are being joined by passersby to take in the performance.
The poets are speaking about their community, their friends, their businesses, and their culture. They're also telling their audience that all of it is at stake unless the community joins in the fight to preserve it.
Demonstrations like these are becoming more common in Mariachi Plaza, and the local businesses are playing an integral role as they fight to survive and simultaneously preserve their community's culture.
Along E. First Street in Mariachi Plaza the community of small businesses is struggling to stay alive in the ever-growing landscape of big business in Los Angeles.
"Parts of our infrastructure has been removed from the city as it grows in power," owner of Un Solo Sol Kitchen Carlos Ortez said, citing a local Laundromat as a recent family business cut from the community.
Ortez helped to organize the poetry reading and regularly offers his restaurant for similar events that reinforce the community's sense of unity and the importance of local business.
The family-owned businesses that remain vary from restaurants and snack shops to sports stores to music and mariachi accessory stores. Each has been built by local family efforts in Mariachi Plaza, and has been operated by members of the community for generations. And each fear that going out of business would do more than hurt them, it would also wipe out the neighborhood as it exists today.
While a couple businesses may face some minor, competitive pricing induced rivalry between them, like the House of Trophies and Casa Prieto Sporting Goods located just a few stores apart, they stand in solidarity when it comes to facing brutal pressure from big business.
"We get a lot of trouble when it comes to staying alive within the city with big commercial businesses coming in," owner of House of Trophies Saul Gonzalez said, "That's where the real story is. It's not the story anyone wants to talk about, but it's why our small businesses are really struggling."
However ominous their challenges may be, the businesses along E. First Street are fighting for a cause even bigger than staying alive and turning a profit – preserving the cultural identity of their community.
Ortez has recognized the problem since he started his Mariachi Plaza business in 2003. Before opening Un Solo Sol Kitchen out of his front door on First Street, Ortez ran a back door catering company that provided foods to charter and public schools in the area.
Constantly seeing how his small business struggled to survive amid the 2008 recession and the bankruptcy of the California public education system, Ortez knew something had to be done to make sure Mariachi Plaza would not lose all the small businesses that serve the community and preserve its culture.
"What we are worried about is this idea of gentrification, or what we call community displacement. The privatization of people's own businesses at the big corporate level, that is what we are opposing," Ortez said.
Since Un Solo Sol Kitchen's official front door opening in 2010, Ortez has worked closely with the other small business owners of Mariachi Plaza to strengthen the bonds between them and the community they serve. Ortez frequently spearheads planning of events in the community that reinforce their Latin culture.
"We envision a symbiosis between the community and us. We show them that 'hey, we have good food for you, and we have good product ready right next to your home that you can buy from us'," said Ortez.
In exchange, Ortez explains, he hopes the community will not only see the benefits of the small businesses around them and support them, but also will raise their children to get work experience in these businesses to keep them alive for generations to come.
"Our businesses that are already working to strengthen the community, we have an open door policy. We hope everyone will join our effort," Ortez said.
Noel Jaramillo, current owner of La Casa del Musico, recognizes the importance of these events to the community and echoes Ortez's concerns about upholding the emphasis on the small, local businesses to the community members in Mariachi Plaza.
"These events are important because people come out from the neighborhood and see what we have to offer to them – Instruments, food, and other things that are things that they like," Jaramillo said.
Jaramillo likewise believes that his store and others on First Street have product to offer that large corporations do not.
"The big music stores, of course they offer lots of different kinds of instruments and they can buy and sell for less because they can do so in bulk. But we have special instruments like the guitarron and the vihuela that they don't sell and our local musicians need to do their work," Jaramillo said.
By bringing small businesses like his to the forefront, the community is reminded of what they have in their own neighborhood, and simultaneously reminded of the culture that binds them together.
"We are a Hispanic community and our businesses offer to the people here what they know, what they like, and what they enjoy," Jaramillo said.
The small business owners of Mariachi Plaza hope that their stores continue to succeed so that their community may thrive and set an example to the rest of the world that cultural identity matters.
"Saving small businesses is saving the world. That's all there is to it," Ortez said.