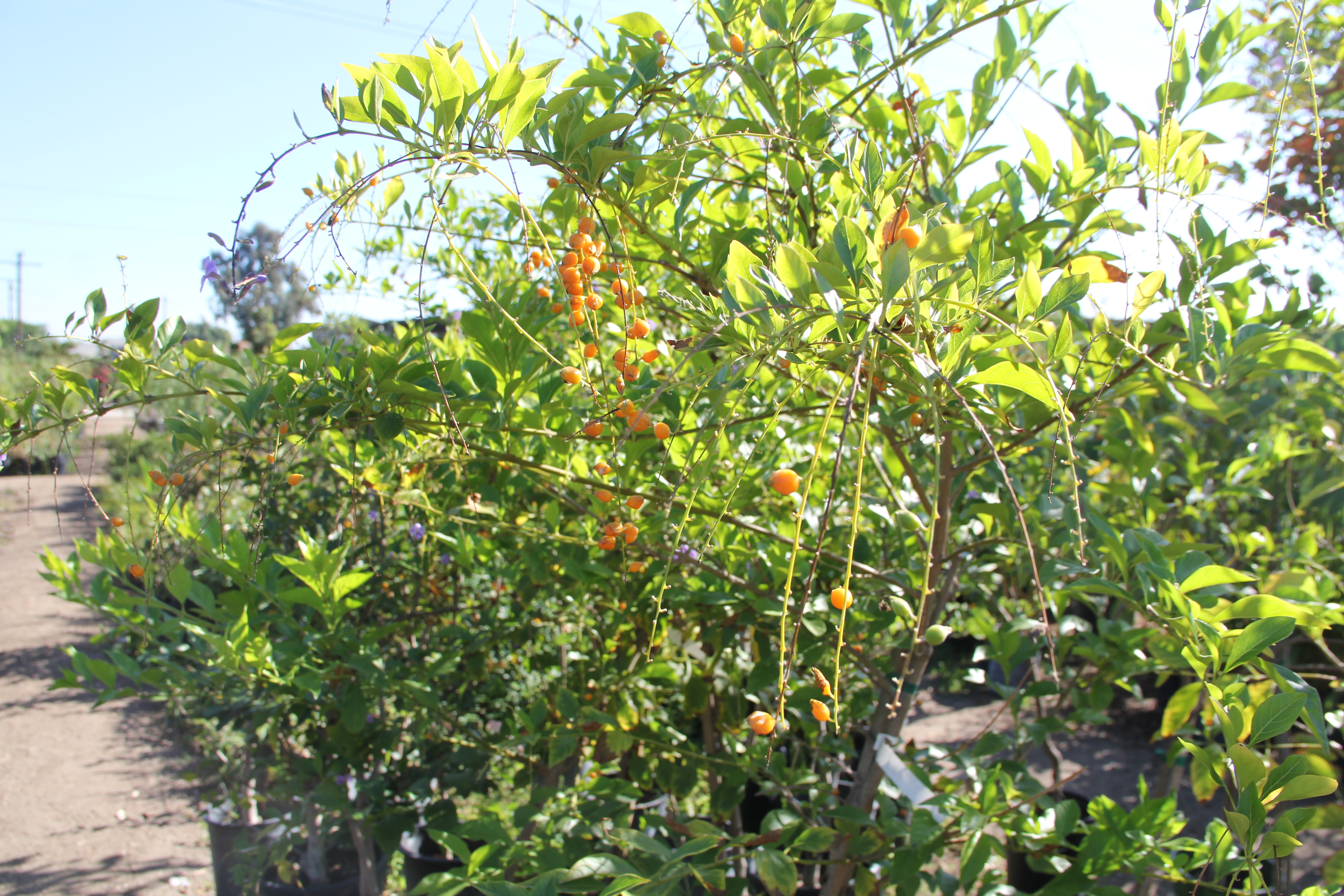 A ripe kumquat tree at Mimosa Nursery in East L.A. on Dec. 1. (Photo By Drennon Kimpton)
Starfruit, Algerian mandarins and Thai limes aren't fruits that you would commonly find at a grocery store in Southern California, but you would at Mimosa Nursery in East L.A.
This month, Mimosa Nursery celebrated its 32nd anniversary as an exotic plant and fruit tree provider for the large immigrant community in East L.A. and surrounding area.
Mimosa Nursery, which is located on a three-acre stretch of land at Allston Street and Westside Drive, carries a wide range of exotic fruit trees from all around the world. At Mimosa Nursery, you can find fruits anywhere from Asia to South America to the Middle East.
"I was a immigrant, a Vietnamese refugee. We fled our country and we tried to make a new life," said Gilbert Guyenne, owner and founder of Mimosa Nursery. "I was very home sick. So it became my passion to learn about all fruits and plants to satisfy my homesickness."
Gilbert Guyenne's goal was to make his family and others in the community feel more at home in East L.A. He believed it was important for immigrants to have a piece of their own culture here in the United States, Guyenne said.
"Most of our customers ask for fruits from Central and South America," said Carole Guyenne, Gilbert's oldest daughter and manager at Mimosa Nursery. "But we also get a lot of people with Asian roots because that is where we are from."
East L.A. has the largest Latino population in Los Angeles County. Monterey Park, which is just east of Mimosa Nursery, has the second largest Asian population in Los Angeles County, according to U.S. Census Data.
"We love the guanabana. It feels like home," said Richard Lopez, East L.A. resident, who is originally from Mexico. "I've come here for 11 years."
"In Vietnam, jackfruit is common, but not here," said Tom Gyatso. Gyatso is from Vietnam and now lives in Monterey Park. He has been working at Mimosa Nursery for the past 15 years. "It brings home here, a community too."
And Mimosa Nursery also caters to many people from the United States looking to try more exotic fruits.
"We see a lot of people, from all over, and from the United States," said Carole Guyenne. "The fruits we have here are so unusual to so many people that are from here. They don't even know how to eat the fruit sometimes so I teach them."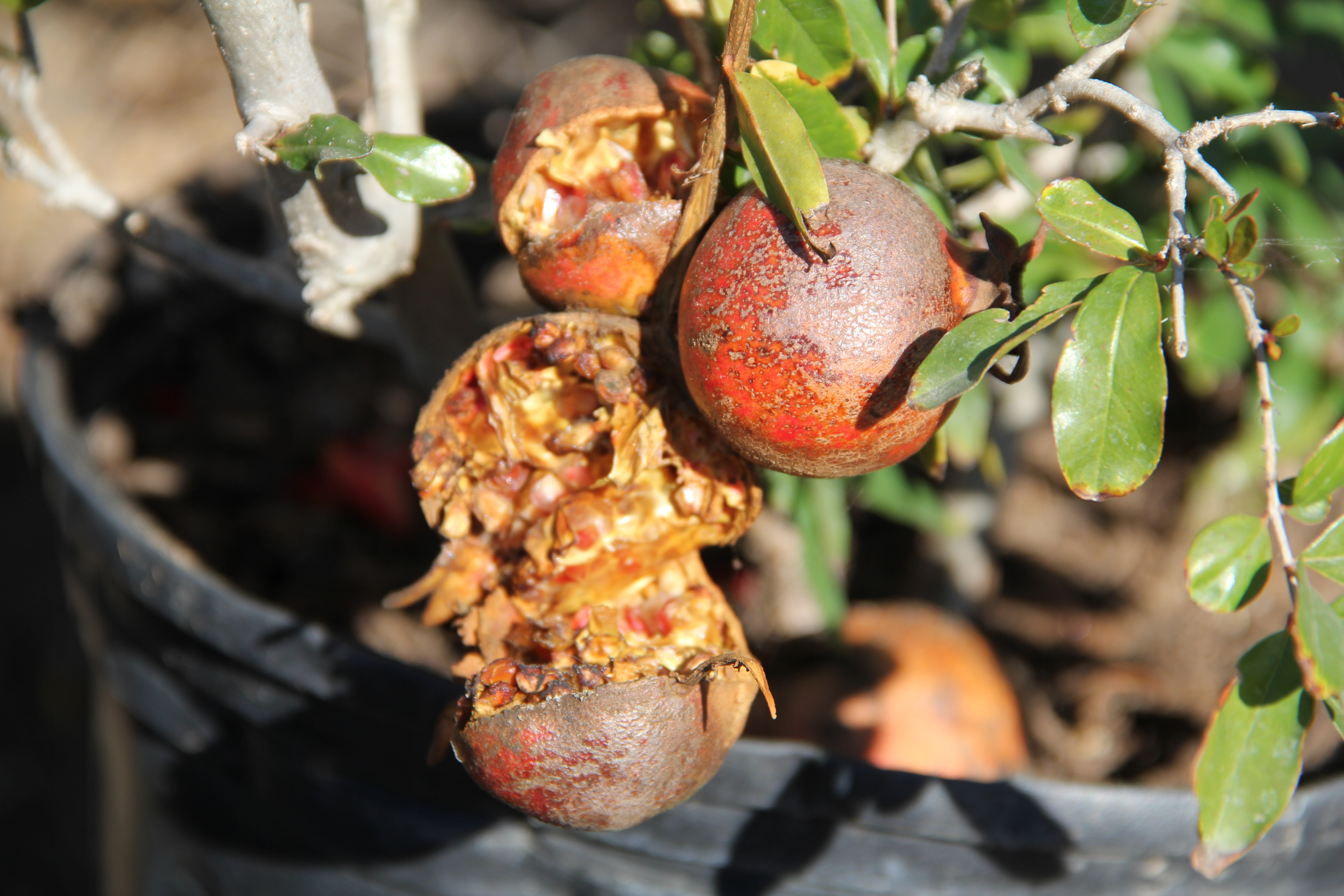 A rotten pomegranate at Mimosa Nursery in East L.A. on Dec. 1. (Photo By Drennon Kimpton)
But, California's ongoing drought has made this past year more difficult for Mimosa Nursery. Recently, they started buying plants that require less water, Gilbert Guyenne said.
"Business has been hard, not because of the water price. The water price is the same, but people are buying less because of the drought," Carole Guyenne said. "They want to use less water because they are scared prices will go up."
According to the latest California State Water Resources Control Board data, East L.A. uses the least amount of water per-capita in Southern California. Beverly Hills uses the most.
"We've noticed that typically the higher the income the larger the property, which means more grass and then more water usage," Priscilla Segura, public affairs specialist at Central Basin Municipal Water District, a wholesale water distributer for East L.A.
Central Basin Municipal Water District hasn't raised prices for the past three years, but they may have to if California runs out of groundwater. Los Angeles Country imports roughly 90 percent of their water and relies on groundwater for the other 10 percent. However, groundwater resources are expected to run out within the next 12 months and Southern California's latest two storms didn't produce enough water to have a significant impact on groundwater, according to Segura.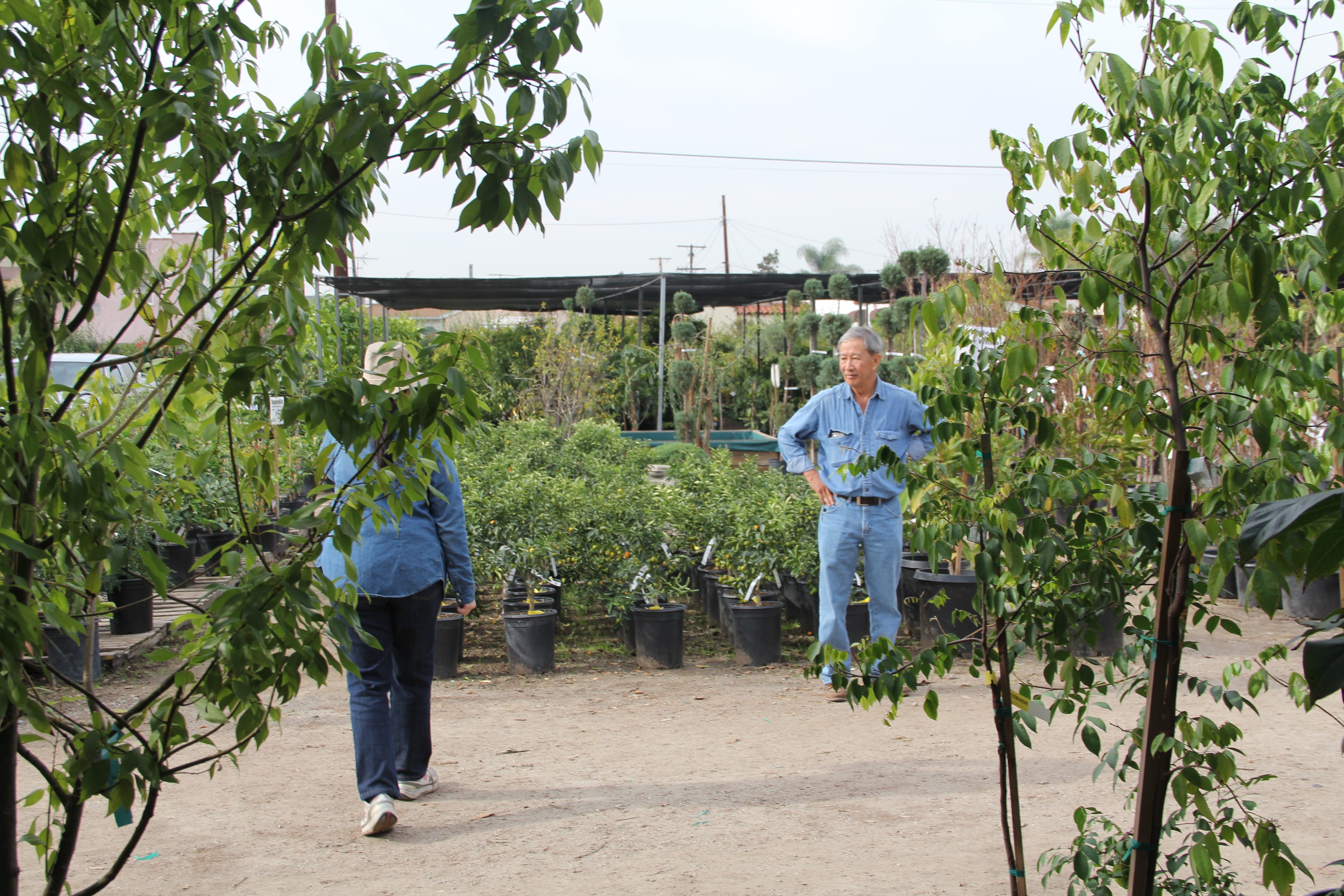 Gilbert Guyenne talking to his daughter, Carole, on Dec. 4. (Photo By Drennon Kimpton)
In July, the California State Water Resources Control Board also imposed statewide water restrictions, which has restricted the amount of water that residents can use to irrigate plants. Gilbert Guyenee believes that this restriction has caused his customers to stop buying as many plants.
"It's been hard for business, but I want people to conserve water. This is most important," said Gilbert Guyenee. "I go to the community and speak to tell people to save water for the planet."