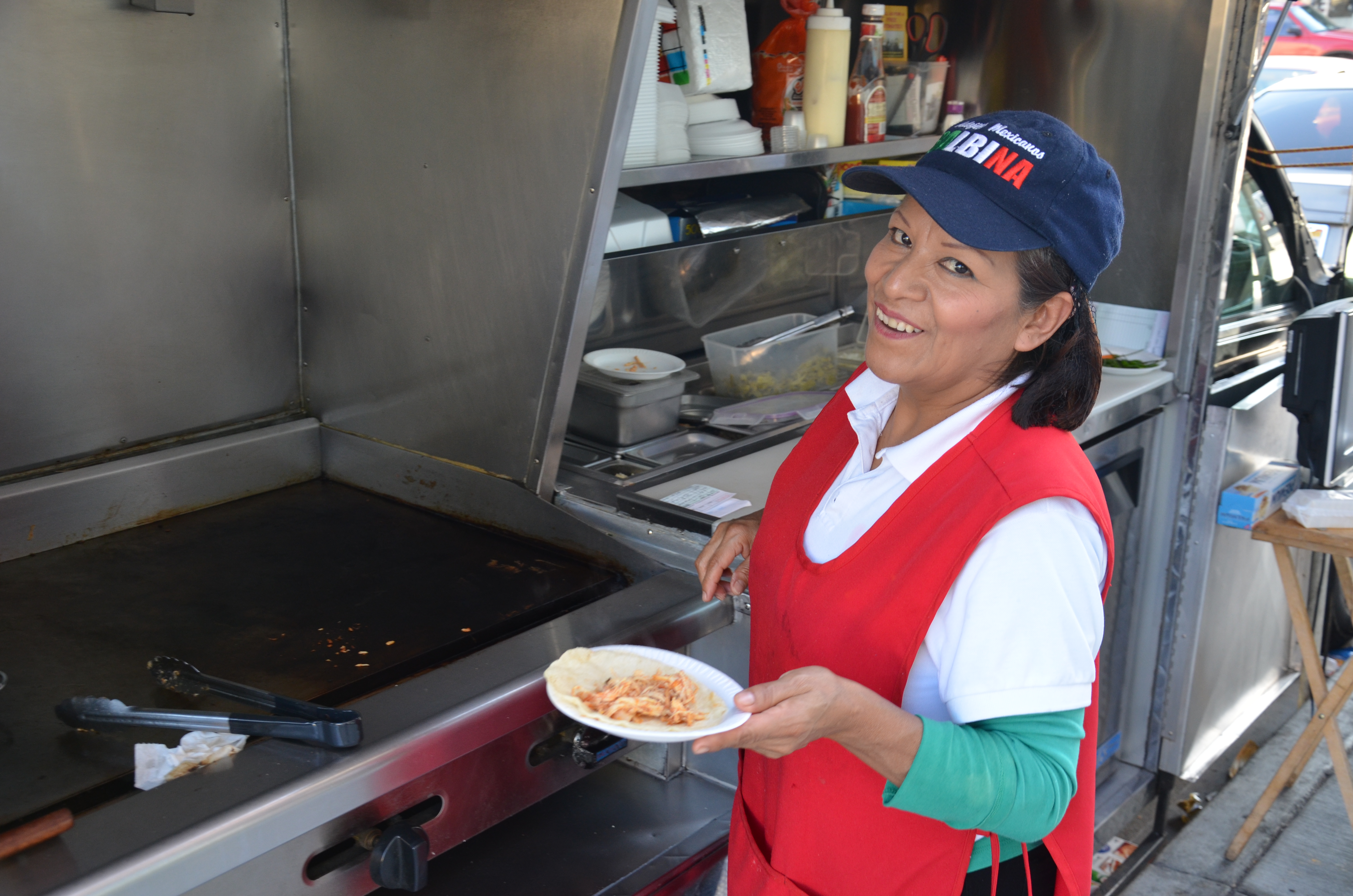 The smell of homemade huaraches wafts down Breed Street from Balbina Sanchez's food truck. A "B" health rating peaks out of the corner of her cart, bearing proof that Sanchez, unlike many of her fellow vendors, has a permit to sell in Los Angeles.
The battle for legal street vending came to the forefront at a city council meeting on Dec. 2 when the Economic Development Committee approved the framework for lawfully regulated street vending. The proposal didn't legalize the trade but it is the biggest step that law enforcement has made on the path to doing so.
The framework states that street vendors will have to take a class on city rules, register to pay taxes, show proof of liability insurance and get cleared by the Los Angeles County Public Health Department, all before they are eligible to apply for a permit.
For Balbina Sanchez, this struggle is all too familiar.
As Sanchez presses a quesadilla against the sizzling griddle, she recalls when she made the move from Mexico and the many years it took her to reclaim a job as a chef.
"I was known as a cook back in my country. I worked in a restaurant but I wanted to open my own business. When I got to this country in 2000, I had to work in many different places first," Sanchez explained in Spanish. .
Sanchez immigrated to Los Angeles with the hopes that she would be able to do what she loved, and for the past two years, she has made that dream a reality.
Boyle Heights' community members consistently line the block to indulge in Sanchez's savory eats, while other residents hang around simply to enjoy the company of the friendly cook. .
"She's a good person," said Judith A., a beautician who works in the store next to Sanchez's truck. "The food is good and a lot of people in the community know her."
As people crowd around Sanchez' truck, it is clear that she is a popular food destination but when the crowd disperses, her true obstacles come to light.
In her 94% Latino neighborhood, it is almost too easy to miss that Sanchez can barely communicate in English. .
With a shy smile, Sanchez displays flash cards that she has written on her own. "Estado," reads one side, and she inquires about the proper translation to scribe onto the other.
"How do you use this? It's hard," Sanchez said as she searched for examples in Spanish to ease the transition.
It is clear that she is determined to rise above this barrier and she is not alone.
Vendors are scattered across Cesar Chavez Avenue as far as the eye can see and each of them are calling out to customers in Spanish. A few vendors are bilingual, but according to community centers in the neighborhood, many are seeking to learn English to expand their economic opportunities.
Alicia Chavarin teaches a free adult English literacy course in the neighborhood and many of her students express the desire to learn English for job purposes.
"I do get a lot people that say they want to write in English to become a citizen or to get a better job," Chavarin said. "I even had one who said he wanted to open his own business."
For many, vending serves as a gateway to bigger, more stable jobs but it is a very difficult way to break into the economy because such a large portion of vendors lack permits. One look at the methods used for vending – baby strollers, shopping carts, etc.--- and it's clear to see that sellers prepare to run at a moment notice with their livelihood in tow.
Balbina Sanchez was able to find a stable home in Boyle Heights but she, and others members of the community, are fully aware that the majority of vendors are not so lucky.
"There used to be a lot of vendors on Cesar Chavez with her but the police came and moved them out," Judith A., her friend and acting translator, said. "Balbina is one of the few that stayed."
"This is a good neighborhood to sell in and that's why many of us are on these streets," Sanchez said.
The humble cook doesn't mind sharing the streets with other vendors --she admits that knows and likes many of them-- but Sanchez has been able to outlast her peers because of her permit, which is a personal achievement that she is proud of.
She hasn't entirely reached her goal but she is satisfied with knowing that she is on the right track and the chef she glows with pride at the food truck that she built.
"Esto es mio," she said.
"This is mine."
View Non-profit Community Outreach Programs in a full screen map