Mariachi Tailor Makes Musicians Around the World Look Good
The dressing room curtain rustles, and a pair of tiptoed feet dances in a circle in front of the mirror.
"Ooh I look good!" said Antonio Navarro as he emerged from behind the curtain in his brand new charro, or mariachi suit.
Navarro has been coming to La Casa Del Mariachi for 12 years to order custom-made suits for his mariachi performances. He just added a fifth outfit to his collection.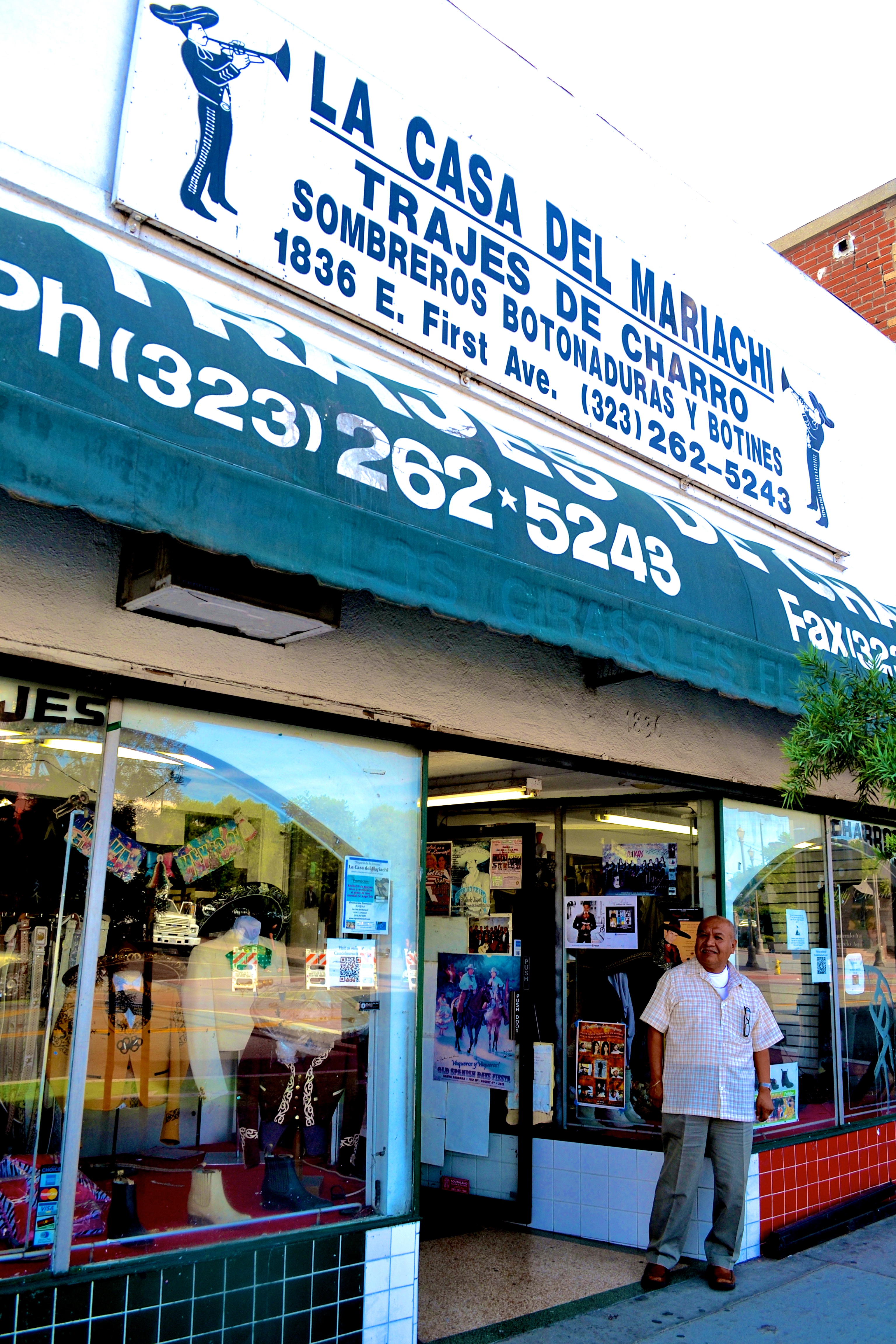 Tello greets his customers outside La Casa Del Mariachi in Boyle Heights
"I have my own secret closet with clothes just from this store. They're that special," said Navarro.
Jorge Tello, a tailor for 50 years and the manager of the popular Boyle Heights charro shop, stares at Navarro's cuffs.
"No, no. I can make you look even better. One minute, one minute. Come here," said Tello with a pin in his mouth and a tape measurer in his hand.
Tello began making suits at the age of 10 with his father, an admired tailor among the small Guatemalan neighborhood where Tello grew up. By the time Tello turned 15, he was an expert at making suits, but he yearned to find a way to expand his talent.
"That's when a friend introduced me to the Mexican mariachi suit. It's so detailed. It's so beautiful. It's an art. If it wasn't an art then there would be many stores who sold these suits, but there isn't. There are no machines that make these designs. It is all handmade," said Tello.
The Mexican charro, known for its elaborate buttons and leather embroidery, or greca, is key to the mariachi culture, according to mariachi musician Tony de Valdibia.
"When I wear the charro suit, I wear it with pride and great excitement. It is very important to represent Mexico and this tradition, which is many years old. I like to represent these things well, clean and with my bow all tied up," said de Valdibia.
According to de Valdibia, a mariachi band would not be the same without the suit.
"Any musical group could pick up a violin, a trumpet and a guitar. They could play the music we play, but they need to look the part. We take pride in how the suits make us look. It's who we are, and the suit is our image. One of our symbols," said de Valdibia.
In addition to making charro suits for mariachi members, Tello also crafts suits for vaqueros, or Mexican cowboys.
The mariachi suit and the vaquero suit are very similar, but they differ slightly by color, leg length and button placement.
Silvano Diaz, a vaquero who competes in roping events, stresses the importance of knowing the specifics of a vaquero suit.
"It goes by rules. We have to wear the suits a certain way. Our pants need to be long enough to ride a horse, and we can't just wear any cowboy shirt. If a vaquero is competing in an event, he could be disqualified if he has the wrong type of buttons. We have to pay attention to detail, and that's why we trust Jorge," said Diaz.
In 1984, motivated by the attentiveness and creativity that charro tailoring has to offer, Tello left Guatemala to look for greater career opportunities in the United States.
But when Tello arrived in Los Angeles and started working in a small charro shop, business was not what Tello had expected.
"It was slow. Like in any business, I started to struggle. But after some time everything settled into its place. In 2002, I opened up La Casa Del Mariachi, my joy, in Mariachi Plaza. I am now here working with my sister, and I couldn't be happier. My job and my customers mean the world to me," said Tello.
Nestled in the center of Mariachi Plaza, an area where many mariachi musicians gather to play music and look for work, Tello's shop is in a prime location.
"I can get my suit adjusted, buy a new guitar and look for my next gig all in one place. It's convenient," said Navarro.
The location of La Casa Del Mariachi, at the heart of Mariachi Plaza, is very convenient for many mariachi groups. Just steps away you can find a music school, an instrument store and a gathering place for musicians to find work.
But the source of Tello's customers does not just come from Mariachi Plaza. They also come from all over the world.
Anthony Ramos, a Mariachi member from Seattle, found out about La Casa Del Mariachi by word of mouth.
"I heard [Tello] was the best around. I mean, he's known as 'El Maestro!' So I drove down the coast to see him. If I know the suit will be the best of quality, why not put in the extra effort to get it? The drive was worth it," said Ramos.
Another mariachi member, Josue Castellanos, brings Tello's suits back to his family in Mexico.
"Jorge keeps the tradition of the suits. It's hard to find that somewhere else. I want the right tradition carried on," said Castellanos.
This trend of taking mariachi clothes back to Mexico is common. According to Los Angeles Mayor Eric Garcetti, the mariachi culture is increasingly emerging from L.A.
"You'll see Mexicans in Mexico wearing clothes from Los Angeles or artists who live here now who are selling records in Mexico… [Tello] is one of the last by-hand artists. It shows Los Angeles and California know how to be at the lead of the creative culture and the creative industries," said Garcetti.
In addition to its global attention, Tello's store also attracts celebrities, according to Tello's sister and assistant tailor, Sandra Tello.
Sandra says that music artists and production companies often want their clothes to be as authentic as possible.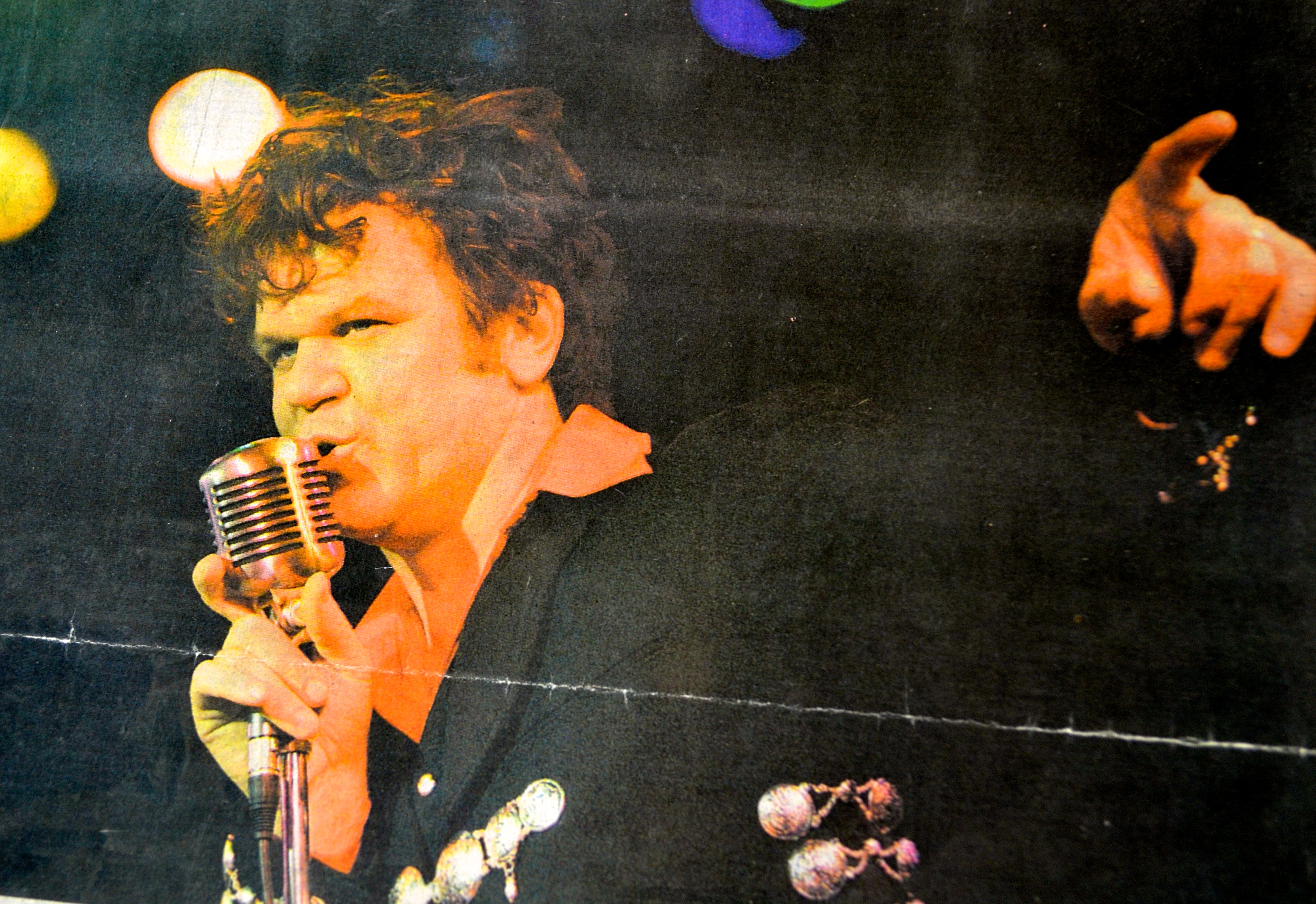 Actor John C. Reilly wearing one of Tello's suits for the movie Walk Hard.
"They have us design their wardrobes because they want their viewers to believe them. They know they will find what they need here," said Sandra.
Antonio Banderas, John C. Reilly and Chevy Chase, to name a few, are some celebrities that have worn Tello's suits for their movies and performances.
But, according to Sandra, La Casa Del Mariachi's most cherished customers are those that are now like family.
"People we dressed 30 years ago are now dressing their grandchildren, the third generation. First was the dad, then the son, and now the grandchild. They keep coming back. They trust us," said Sandra.
Jaime Ortiz, a mariachi musician and friend of Tello's for more than 30 years, uses Tello's suits as a tradition in his family.
"I am now ordering a suit for my son's wedding. I wouldn't go anywhere else to order a suit… I get my suits here, and my brother gets his suits here. And now my son. Who knows? Maybe my son's son will, too," said Ortiz.
Tello, about to celebrate his shop's 13th anniversary in Mariachi Plaza, is in his element.
"I love my job. I love to share with people. I love every stitch, and every suit is stitched with love," said Tello.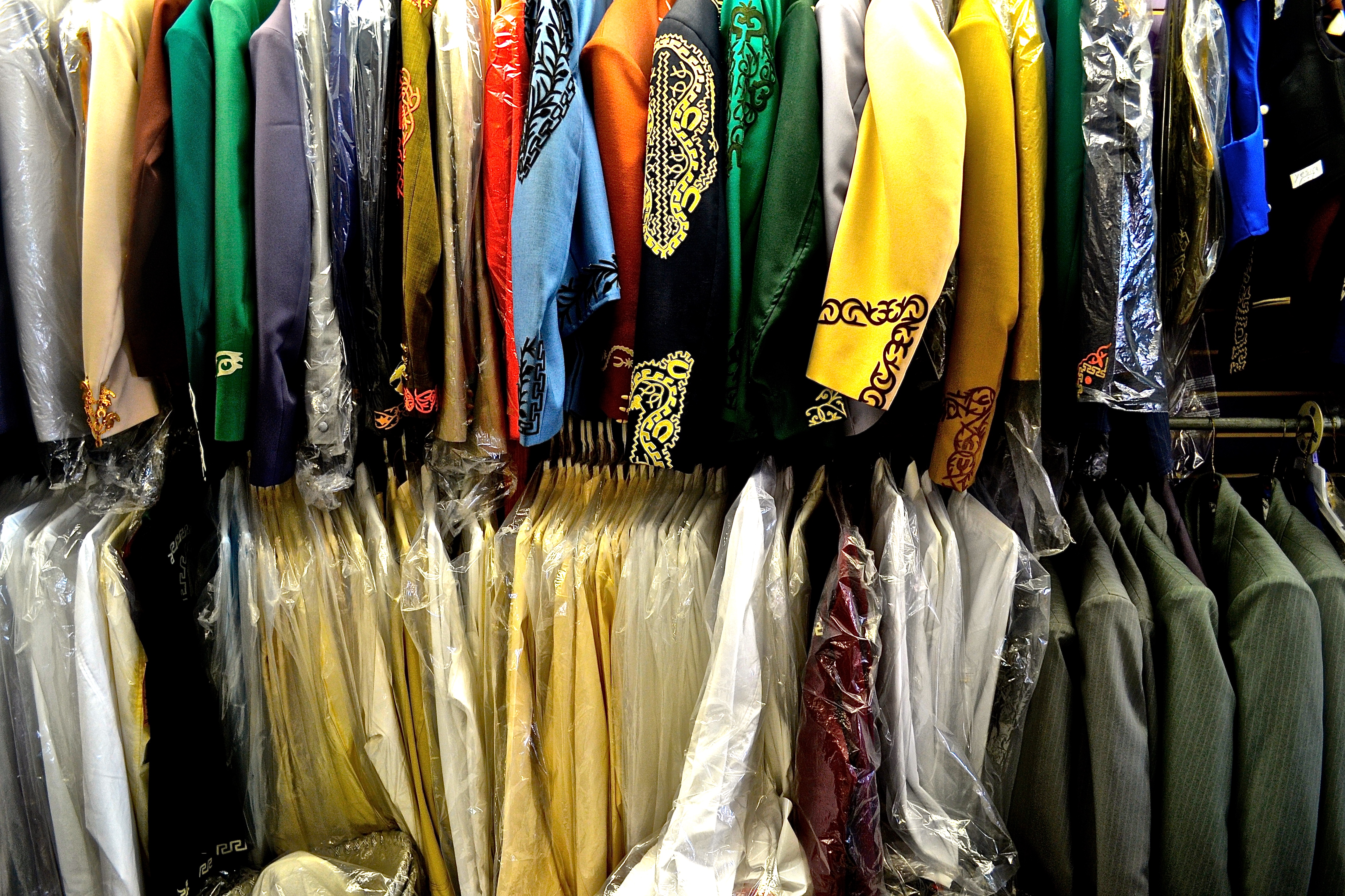 If you would like to find out more about Tello and his suits, visit the La Casa del Mariachi website.